Parliament Special
England is run by Her Majesty's Government in theory. In practice there are powerful men who HMG deals with while the rest of us get oppressed - or get out. Warmer climes beckon. Since HMG extorts rather more than £500 Billion from us and spends a good deal more it attracts interest from the greedy and well connected.
Getting power over money brings splendid opportunities for getting rich. Making the rules means it is easier to get away with the fraudulent misapplication of funds. In Nigeria, where people are more honest, bribery has a spot market. A police man claims that you are drinking and driving. You pay him on the spot and carry on drunk or not. In England we have a futures market. A prime minister sets up a multigigabuck contract for something that is undesirable and never going to work then gets to be a director or consultant later on. It makes corruption harder to prove, which why it is done that way.
Politicians like it. Senior civil servants, the sort who authorise expenditure love it. Why retire on a very handsome pension when you can also get to be a consultant, doing little or nothing apart from drawing the pay packet - sorry, make that accepting the remuneration package.
And as Hank Gonzales, former Mayor of Mexico City and billionaire said: "A politician who is poor is a poor politician"
Blair left Downing Street and got rich. Was the money coming at him for favours, past present or future? I would say yes but just try proving it.
An issue arose. It started with a Freedom of Information request by a journalist who has been down this road before. It was blocked.
Who started it?
Who benefits?
Who are the guilty?
Who should have stopped it? Try Sir George Young, 6th Baronet, the Chairman of the House of Commons Committee on Standards and Privileges in 2001, as much use as a chocolate fireguard and a light fingered rogue to boot - see Young claimed £127,000 on London flat ...
Who did the cover up? Try Gorbals Mick, the Speaker of the Commons and a light fingered oaf to boot.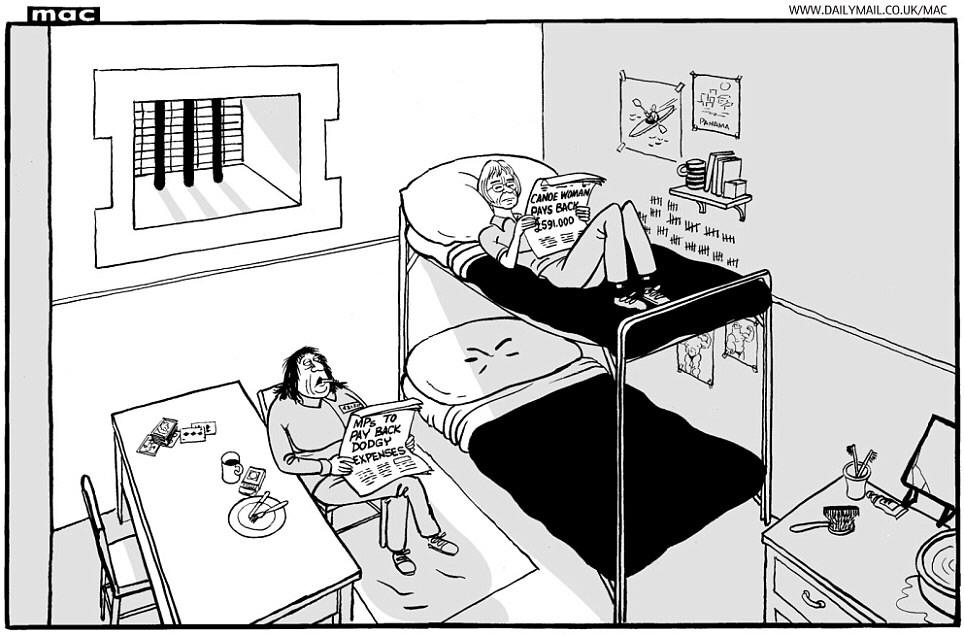 Why are we in here while they are out here?
We hang the petty thieves and appoint the great ones to public office.
Aesop Some things do not change.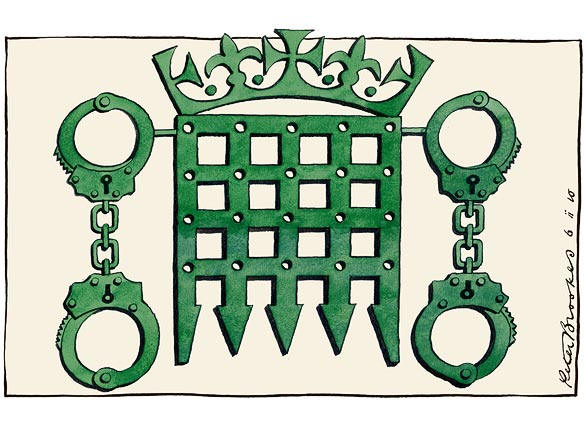 http://en.wikipedia.org/wiki/Disclosure_of_expenses_of_British_Members_of_Parliament.htm
Parliament Of Thieves Seeking Vengeance [ 26 September 2009 ]
QUOTE
The Daily Telegraph said yesterday [ 26 September 2009 ] that it had paid £110,000 for the leaked information..........
UNQUOTE
The disclosure of expenses of British Members of Parliament is an ongoing political scandal in the United Kingdom. It involves the disclosure of alleged misuse of the permitted allowances and expenses claimed by Members of Parliament (MP) and attempts by MPs to exempt themselves from Freedom of Information legislation. See http://en.wikipedia.org/wiki/Political_scandal.
Parliament And Thieves
Three or four are in prison. Others might get sorted out. This leaves another six hundred who should go to prison - then get hanged.

Denis MacShane
MacShane is a thief who panders to Jews, which will be why he was allowed to walk free.

Enemies Of The People especially:-


http://bnpsalford.wordpress.com/paedeophiles-rapists-thieves/

http://liarsbuggersandthieves.blogspot.com/2008_05_01_archive.html


http://thurrockpatriots.blogspot.com/2008_08_01_archive.html

Uddin
Uddin is a Pakistani thief. She got into the House of Lords because she was a Pakistani. She carried on thieving because she was a Pakistani. She go got away with it because she was a Pakistani. That is Racism in in action, in England. It is anti-English racism. Racism is a Marxist construct. It is a Propaganda tool used by Traitors such as the BBC.
---
Parliament Of Whores Will Carry On Thieving [ 9 January 2009 ]
QUOTE
Sir Ian Kennedy, the chairman of the Independent Parliamentary Standards Authority (Ipsa) denied "watering down" the package. [ He lied - Editor ] However a consultation document published today by Ipsa included significant differences from the blueprint for reform drawn up by the chairman of the Committee of Standards in Public Life, Sir Christopher Kelly........... MPs would have the chance to vote on whether the Treasury should be able to recover any profits they make on the sale of homes they bought with taxpayer-funded mortgages. The consultation document also potentially reopens the issue of whether MPs should be able to employ members of their own families - a practice which the Kelly report said should be banned.
UNQUOTE
Choose the committee, choose the result. That is how it is done. Kennedy got the job because he was going to let them get away with robbing us blind.

Euro MPs Abuse Expenses And Rob Us Blind [ 20 March 2009 ]
QUOTE
A LEAKED internal report has revealed systematic abuses by Euro MPs of parliamentary allowances that enable them to pocket more than £1m in profits from a single five-year term, writes Jonathan Oliver.......... The auditor's confidential report, suppressed by the Brussels parliament, discloses the extraordinary frauds used by MEPs to siphon off staff allowances funded by taxpayers. It shows that some claimed for paying assistants of whom no record exists, awarded them bonuses of up to 1½ times annual salary and diverted public money into front companies.
UNQUOTE
A corrupt gravy train is a profitable gravy train and tax free to boot. Are these oiks going to rock the boat? Not a chance.


UK Politician Denied Canadian Visa [ 21 March 2009 ]
QUOTE
George Galloway, the British politician, has been barred from visiting Canada on grounds that he is a threat to national security, the Canadian immigration minister's office has said....... Galloway was to give a speech in Toronto at the end of the month, but has been denied entry over his opposition to Canadian troops in Afghanistan.
UNQUOTE
This is all rather silly and proves that the Canadian government has been taken over by fools or rogues. This is not to say that Galloway is not a fat oik on the make but he panders to Islamics while Canadian politicians are pandering to Jews and their evil. Meanwhile honest Canadians die stealing oil for Israel.

MPs Call For £40,000 Pay Rise While Honest Men Go On The Dole [ 25 March 2009 ]
QUOTE
As the parliamentary sleaze watchdog launched a full inquiry into members' expenses, senior backbenchers called for the £24,000-a-year allowance to be replaced with an annual salary increase. The proposed pay rise would boost an MP's basic wage to more than £100,000 from £63,291, at a time when private sector workers are enduring pay freezes... The Tory MP Desmond Swayne MP said: "A clean reform would be to give MPs an incremental salary and take away the allowances." He added: "The current system is a constant source of grievance for the public, who now hold us in contempt. They hate us and think we all have our snouts in the trough."
UNQUOTE
Swayne [ Swine?? ] got it right about the snouts in the trough all the way up to the trotters.


MPs Tried To Hide The Truth About Their Expenses Of £143,000 Each [ 31 March 2009 ]
QUOTE
A House of Commons investigation has been launched to find the "mole" who is trying to sell the information, a Labour MP confirmed. Sir Stuart Bell, a member of the Commons Commission, said: "All of the receipts of 650-odd MPs, redacted and unredacted, are for sale at a price of £300,000, so I am told....... Commons authorities have been working to prepare around a million receipts filed by MPs for publication, after losing a freedom of information battle to keep them secret.... Brown was forced to defend Home Secretary Jacqui Smith after it emerged she had "mistakenly" claimed for two adult movies watched by her husband.... Brown said rules on MPs' expenses needed to be "cleaned up".
UNQUOTE
The Commons are an Augean stable full of conniving rogues. Brown of course, is the worst. His greed is utterly unlimited. He extorts 80% of our income and wants more.

Snouts in the trough again and up to the trotters at that.

Expense Scandal MPs Get Legal Aid. Honest Men Get Nothing [ 31 July 2010 ]
QUOTE
TAXPAYERS were facing a bill of up to £5million yesterday as four politicians lost a second bid to escape trial over allegedly fiddling their expenses. In an historic ruling, Lord Chief Justice Lord Judge rejected claims by the three ex-Labour MPs and a Tory peer that they were covered by parliamentary privilege. But David Chaytor, Elliot Morley, Jim Devine and Lord Hanningfield are likely to mount another challenge and take their case to the Supreme Court.

Legal fees, on top of a £600,000 bill from Scotland Yard to investigate the allegations, could push the final cost towards £5million. The three former MPs, who are on legal aid, lost the first round of the multi-million pound legal battle in June. Mr Justice Saunders then threw out the parliamentary privilege claim at London's Southwark Crown court saying it was totally unjustified.......

Legal experts said yesterday that the Supreme Court was unlikely to overturn the Lord Chief Justice's ruling [ but it is only our money they are wasting - Editor ].

Chaytor, 60, ex-MP for Bury North, Morley, 58, ex-MP for Scunthorpe, Devine, ex-MP for Livingston, and former Essex County Council leader Lord Hanningfield, 69, deny theft by false accounting.
UNQUOTE
Just how do well paid MPs get legal aid when honest men do not? Corrupt malpractice is the obvious answer. For that matter why were so many MPs allowed get away with fraud by paying back what they stole? Then again why is Blair allowed to get away with war crimes? You do not need to be a lawyer to work that one out but you need to be a lawyer or in crowd to get away with it.
MPs Are Still Light Fingered Rogues On The Make [ 11 December 2012 ]
QUOTE
MPs' expenses: MPs hire lawyer to fight order to repay second home profits
MPs have hired a lawyer to challenge their own expenses watchdog in court to let them keep the profits from the sale of their taxpayer-funded second homes.

The news marks a further deterioration in relations between the Independent Parliamentary Standards Authority and the MPs it is supposed to regulate, after Ipsa recently published part-redacted details of MPs' landlords. The MPs are challenging a rule that they must repay profits made on their second homes between May 2010 and August 2012, even if they have not sold the property. Seventy MPs are thought to have claimed nearly £1million in mortgage interest payments over the period. The change was introduced in the wake of the 2009 MPs expenses scandal to stop MPs profiting from claiming mortgage interest payments on second homes.
UNQUOTE
Anyone who wants to be in politics should be disqualified out of hand. Are they all thieves?

Trust this arrogant swine? Not me.

Denis McShane MP, Liar, Thief, Traitor, Hypocrite, Racist [ 10 April 2013 ]
QUOTE
Comrade Catholic
Unstintingly generous with others, Tony Blair's New Labour were sternly austere with themselves. While toiling to create thousands of new laws and regulations for the rest of us, for themselves they had a single stark and simple rule: "To the pure in heart, all things are permitted." And who in New Labour came purer-hearted, or more self-permissive, than the Rt. Hon. Denis MacShane, né Matyjascek, a Privy Councillor, "informal envoy" to Tony Blair, and quondam Member of Parliament for the Yorkshire constituency of Rotherham? Saluted as an "old comrade" by a fellow Oxonian, the Trotskyist/neo-conservative Christopher Hitchens, the Roman Catholic MacShane has devoted many decades to the struggle against fascism and for justice, equality and freedom. Alas, in our fallen world, this made him a marked man. On Friday 7th November, 2012, the cross-party House of Commons Standards and Privileges Committee suspended him for twelve months for submitting false invoices and fraudulently claiming thousands of pounds in expenses.

The Labour chairman of the committee described his conduct as the "gravest case which has come to the committee for adjudication" and Denis saw no choice but to fall on his anti-fascist sword:

In the light of the Parliamentary Commissioner's decision, supported by the Committee of Standards and Privileges, to uphold the BNP [British National Party] complaint about expenses claimed in connection with my parliamentary work in Europe and in combating antisemitism, I have decided for the sake of my wonderful constituency of Rotherham and my beloved Labour party to resign as an MP. ("Denis MacShane resigns as MP over expenses," The Guardian, 2 November 2012)

Denis was not alone in his distress and bewilderment that a complaint from so vile a source should have been upheld. The lawyer Mark Stephens, a friend and fellow anti-fascist, appeared on BBC Radio 4's World at One to condemn the committee's finding in these uncompromising terms:

The most important thing here is that if people who are anti-fascist, people who have fought against semitism [sic], then in those sort of circumstances – in those circumstances – people will be deterred from doing that in the future, they will become targets… I have worked with Dr Denis MacShane for over thirty years on campaigns and anti-fascist work. This is a huge victory for racists and fascists who have in my opinion abused the parliamentary complaints system to destroy an honourable member of parliament who is a political opponent of the BNP… the chilling effect of this process will deter principled members of Parliament from rooting out prejudice and fascism wherever it may be found. (See here.)

UNQUOTE
So it is all right to be thief if the BNP complains about it, assuming, of course that one is a Marxist, enemy of England or mate of Blair.



Eight Politicians Jailed Since Last Election [ 23 December 2013 ]
Only eight? They can't have been drinking with the right people albeit Chris Huhne was let out very early in a Perversion of the course of justice.
Denis MacShane
Elliot Morley - thief, stole 30,000 got 16 months
Jim Devine - thief, stole 8,000 got 16 months
David Chaytor - thief, stole 18,000 got 18 months
Lord Hanningfield - thief, stole 67,000 got 9 months
Eric Illsley - thief, stole 14,000 got 12 months
John Taylor - black thief, ordered to repay £151,038 got 12 months
Chris Huhne - perverted the course of justice got 8 months and let out very early

MP Makes £90 Thousand By Fraud [ 19 February 2014 ]
Miller is a Tory ratbag. Tory is a fine old Irish word for thief; some things do not change. Will she be charged with thieving? Uddin got away with it because she is a Pakistani. Her face fitted. Taylor went to prison for stealing more even though he is Black. We will see. Assuming official corruption is the way to go. More crooks at Parliament Special.
Tory MP Investigated For Thieving [ 25 February 2014 ]
Bone has found out the hard way that police are vicious thugs. It is nice to know they will bully MPs, not just the innocent. Being an accountant in the frame for a £100,000 fraud means he will not be able to claim ignorance.

Tory MP Being Investigated For £100 Thousand Fraud Owes £200 Thousand [ 27 February 2014 ]
His pay is very adequate. He pays his wife £45K but owes credit card companies another £200K. The man's an accountant? The man's a fool.

MPs Vote For War 524 Versus 43 [ 28 September 2014 ]
QUOTE
Britain's three biggest parties, coalition government partners the Conservatives and Liberal Democrats, plus the opposition Labour party, all officially backed the bombing campaign. The government insisted the intervention was legal under international law because it was requested by the Iraqi prime minister.
UNQUOTE
That is the excuse the Soviets used when they invaded Afghanistan & Czechoslovakia. Now it is our lot of War Criminals doing the same.

Americans Don't Want War Either [ 28 September 2014 ]
Sensible chaps. It is just the hooligans that run the place on behalf of the Zionist crazies who controlIsrael. America has a Zionist Occupation Government [ ZOG ] just like England.

War Is About Oil Not Massacres [ 28 September 2014 ]
This thesis makes sense. We are addicted to Oil. Arab troublemakers sit on various pipelines. They can hold us to ransom. Sort them now or sort them later?

Solicitor General Is Not Evading Tax - Allegedly [ 9 February 2015 ]
QUOTE
A Tory MP has denied attempting to avoid tax after being named as an investor in a film partnership scheme under investigation by the tax man. Solicitor-general Robert Buckland is claimed to have been a member of the Invicta Film Partnership No 25 for nearly a decade.........

Mr. Buckland's involvement in the scheme is potentially hugely embarrassing for David Cameron who has pledged to tackle tax avoidance. The revelation comes just days after Mr. Cameron faced questions in the Commons about Smythson, the upmarket leather goods firm employing his wife, being based in a tax haven....... Chancellor George Osborne has branded 'aggressive tax avoidance' as 'morally repugnant' [ Osborne is a fool or a liar - Editor ]

On Saturday, Labour leader Ed Miliband said: 'There is nothing pro-business about defending tax avoidance.'

The leather goods and luxury stationery firm, which has a store on New Bond Street that sells £2,000 python skin handbags, has employed Mrs. Cameron as a creative consultant since 2010 on a salary thought to be up to £100,000 a year.
UNQUOTE
As Leona Helmsley said: We don't pay taxes. Only the little people pay taxes. Going in to Parliament is all about power, getting rich, getting away with it. The fact that a firm chooses to bung Cameron's old woman maybe £100,000 proves that they are not merely Capitalist Swine but cunning too. The fact that she takes it shows that.......... well, just the obvious. Miliband, the grandson of a traitor & Jew puts the boot in but keeps quiet about bribing millions of illegal immigrants to Vote Labour.

Italian Senator Calls Black Politician An Orangutan [ 9 February 2015 ]
She doesn't look that bad, recall however that Silvio Berlusconi called Merkel a fat lump of lard. Sincerity is an underrated virtue.

Johnny Mercer MP Speaks For The Men Who Served And Suffered In Afghanistan
QUOTE
Last week, new Tory MP Johnny Mercer – a former British Army captain who served in Afghanistan – won plaudits in the Commons with his maiden speech, about the plight of soldiers who return from combat missions. Here, The Mail on Sunday reproduces his speech…

The past decade and a half has defined a whole generation of us in often unseen wars against enemies that only seem to grow darker.

We have no complaints about the duty that we have chosen. It formed many of us; indeed, it made many of us who we are today. We were proud to defend this great nation in the same traditions of the immense sacrifices of our forefathers.

However, last week the Prime Minister spoke of the gravity of the end of combat operations in Afghanistan. For many families, that marks the end of the sleepless nights by the phone and the ever-dreaded knock at the door
UNQUOTE
An honest man speaks. He deserves well of England.
Bent MP Promoted [ 28 August 2015 ]
QUOTE
David Cameron was accused of "bringing Parliament into disrepute" by handing a life peerage to Douglas Hogg, the former Tory MP who quit the Commons in disgrace over an expenses claim for his moat.

The Prime Minister elevated Mr Hogg to the Lords despite having to withdraw a previous nomination on the advice of a watchdog body.
UNQUOTE
If your face fits, you are laughing, no matter what. Hogg in action is competent, articulate, thinking on his feet and utterly corrupted by a lust for power. Or perhaps that is just the impression he gives to outsiders, the little people, those of us who did not go to Eton. Cameron doesn't see a problem but then Cameron is in-crowd, a liar who betrayed his Oath of loyalty.

MPs Are Still Corrupt [ 2 April 2017 ]
QUOTE
Parliament is facing a new expenses scandal after the amount that every MP pays their staff, including their wives and family members, was accidentally leaked. The Independent Parliamentary Standards Authority is writing to all 650 MPs and their staff to apologise for a "serious data breach" on Thursday night.

Confidential data including the name of every member of MPs member of staff, their exact salary and the amount that they received in bonuses was inadvertently published online.
UNQUOTE
Recall that The Telegraph did a big exposé with Parliament Special then suddenly it all went quiet. Did MPs get a court order to shut them up and suppress the truth for ever? Yes. Prove it............ but see Parliament Of Thieves Seeking Vengeance.

Parliament Destroying Evidence Of Expense Fraud [ 1 November 2017 ]
They are doing it to Pervert The Course Of Justice and make sure it stays perverted. Recall the last time, when their shennanigans were exposed. Hogg was just one light fingered rogue to come to light. He got away with dredging his moat at our expense. The Telegraph was feeding us the evidence then it suddenly went quiet. A court order can have that effect. It was the same with Organophosphate poisoning. Our wonderful government made sheep farmers use the stuff. The victims sued then suddenly it all went quiet. Private Eye has not uttered a word about it since. But see Sheep Dip Sufferers Support Group.
Errors & omissions, broken links, cock ups, over-emphasis, malice [ real or imaginary ] or whatever; if you find any I am open to comment.


Mike Emery. All financial contributions are cheerfully accepted. If you want to keep it private, use my PGP Key. Home Page
Updated on 10/11/2017 21:21
Errors & omissions, broken links, cock ups, over-emphasis, malice [ real or imaginary ] or whatever; if you find any I am open to comment.


Mike Emery. All financial contributions are cheerfully accepted. If you want to keep it private, use my PGP Key. Home Page
Updated on 10/11/2017 21:21