Charities
England has many charities and that sounds good. They help people in need. They make the world a better place. That is the theory. The practice is not always the same. They have tax exemptions which sound reasonable but that makes them useful to the unscrupulous. A donation can be tax free in America and emerge tax free in Israel. Then there is the matter of who runs them. One such is David Miliband, a Marxist, son of another. His grandfather was a traitor and mass murderer as well being an illegal immigrant, liar & Jew. He tried to run the The Labour Party, blew it then joined a 'charity' & got a £3.6 million bung from Her Majesty's Government. They pay him £530,922? Bribery? He would say not but his little mates in politics know he is cost effective. You doubt? See Charity Bosses Get Rich By Using the Poor. Then there is Helle Thorning-Schmidt, lately the Danish prime minister and on very friendly terms with the likes of Cameron & Obama. She runs another nominal charity which is actively criminal; Save the Children imports thousands of Illegal Immigrants. She has immunity from prosecution; that's how it works if you know everyone who is anyone.
To the cynical they are personal financial tools. Herewith are comments from sources that pop up from time to time.
Charities Perpetrating Wholesale Crime, Importing Illegal Immigrants
MOAS
Jugend Rettet - German
Stichting Bootvluchteling - Dutch
Médecins Sans Frontières - French
Save The Children
Proactiva Open Arms
Sea-Watch.org
Sea-Eye
Life Boat - German
They have been granted immunity from prosecution by various European governments. They are also Enemies Of The People, traitors to boot. 39,000 Third World parasites in two months is major, systematic, deliberate crime.

Charity Boss Pays Herself £420 Thousand And Fails Her Customers
The head of the country's biggest charity providing housing for vulnerable elderly people has had her pay package soar to £420,000 despite more than a quarter of its care homes being criticised in recent inspections.

Jane Ashcroft, chief executive of Anchor Trust, is one of Britain's best-paid charity executives after her earnings rose by £50,000 over the past four years. The Charity Commission has been urged to review pay levels amid concerns that high salaries are bringing the charitable sector into "disrepute".
She looks fat, smarmy & self-satisfied but then she is getting away with it.

Charities Benefit Their Managements
£80 billion sounds like a useful tax income. But is it useful? To whom? Marketing the sob stories costs money. So do Malicious Prosecutions; something the RSPCA knows a lot about.

Politics Has No Place In A Charity
Robert Henderson is right. They are, all too often political operations with tax breaks.

Invisible Children - The Dodgy Charity Funding War In Uganda
QUOTE
College students and young people are often targeted to support advocacy and awareness campaigns. So, it's no surprise that Invisible Children's Kony 2012 campaign was an instant trending topic on Twitter and other social networking websites like Facebook and Tumblr. For a 30 minute video, people seem to be paying a lot of attention.

Unfortunately, this campaign isn't about hot dogs like it sounds, but about a military leader named Joseph Kony and the Lord's Resistance Army in Uganda. He's become a war criminal after kidnapping children and using them as soldiers in central Africa's current civil war. The war that began among the Acholi people of Uganda and Kony's army has since expanded into South Sudan, the Democratic Republic of the Congo and the Central African Republic.
UNQUOTE
Giving sounds good. It might be sometimes but it is wide open to abuse by the idle, the greedy, the chancer with a hard luck story, you name it. Supporting the Sudan People's Liberation Army and the sounds dubious before you go any further.

Fake Charities - http://fakecharities.org/
QUOTE
Welcome to Fake Charities, the site that tracks just how much of your money the government is giving to "charities"—and at this time of The Big Society, Fake Charities is more relevant than ever.

We define a Fake Charity as any organisation registered as a UK charity that derives more than 10% of its income—and/or more than £1 million—from the government, while also lobbying the government. That lobbying can take the form of calling for new policies, changes to the law or increases in (their own) funding.

Some of these organisations spend a large amount of their time lobbying the state to curtail our freedoms and not all charities are upfront about the amount of money they receive from the state...... You can use this form to submit a charity for inclusion
UNQUOTE
Someone has his eye on the ball. Charities are all too often businesses with built in tax breaks.
PS They finger:-
The Refugee Council which uses our money to help illegal Immigrants sponge off us.

Charity Commission
Is alleged to regulate some 170,000 charities. Labour has recently [ 2009 or so ] moved the goal posts. This will have been to make it easier for their favourites to abuse their status.

Amnesty International
It is very loud, it is effective. Is it charitable? Being started by communists and Jews is a bad sign.

Christian Aid
It is a Christian outfit. Obvious, isn't it? Not quite. Being run by a tax man who claims it is a moral duty to pay tax to foreign undesirables makes it a dubious proposition. The fact that he runs a vulture fund too confirms it.

Claims Conference
Is an utterly corrupt bunch of racketeers sponging off the Holocaust® Industry but then of course they are Jews and the rake off is billions, tax free billions at that.

Combat Poverty
Is an Irish boondoggle and when the Irish go boondoggling they do it well.

Foreign Aid
It sounds worthy. It is not; it is a very profitable boondoggle.

The Great Charity Scam
QUOTE
Most people when faced with the word charity attached to an institution are inclined to be well disposed to the organisation regardless of what the charity is supposed to do..............

The most dramatic subversion of charities comes in the form of national and local governments directing taxpayers' money to charities to perform work which would otherwise be undertaken either directly by the public body or through the employment of a private enterprise contractor. The charities who accept public money – and the vast majority of the larger ones do – become no more than subcontractors to government. The extent of public funding is massive: In 2010 the Charities Commission (which oversees charities in England and Wales) concluded "that almost a quarter of the large charities consider public sector funding to be their most important source of income. (http://www.independent.co.uk/news/uk/politics/government-cutbacks-could-wipe-out-25-per-cent-of-charities-1926155.html)..........

The other prime problem with charities, even large ones, is the fact that they are often very inefficient. The poorly run ones spend a great deal on administration. They spend inordinate amounts on advertising. They hoard money rather than spend it. They manage their money poorly. They fail to modernise their services. Their accounts are inadequate. The idea that charities will be more efficient than direct public provision is simply laughable.
UNQUOTE
Mr Henderson is spot on. He mentions the money going to the collectors. More importantly there are bosses paying themselves very handsomely, not mere wages or salaries but remuneration packages with substantial pensions.

Gurkhas
They are a good cause and the charity industry is there like flies on the proverbial.

Human Rights Watch
Is an NGO, not a charity proper. This means the rules are looser. It is a political front for pushing various single issues which are all designed to destroy civilization using Cultural Genocide and Lenin's Useful Idiots. Pretending to care about human rights was a cover for getting Jews out of the USSR. Complaining bitterly about critics of murder, rape, ethnic cleansing spoils their pretence but they only do this when Jews are the perpetrators.

Institute of Fundraising
QUOTE
Whether it be our National Convention or one of our series of one-day conferences there are important events for fundraisers of all levels and all disciplines. Make sure you don't miss out - you can book online today!
UNQUOTE
It costs a mere £175 - if you are a member. Others pay more. But of course the institute is a charity so it does not pay tax. Cost effective? For them it is.

Kids and Fraud or was it Dodgy Accounting?
Kids is a charity which lays on play grounds for children. Their accounting has been looked at by the Charity Commission and there are "issues of concern about fundraising in 2005". £42,000 has gone AWOL. See page 10 of Private Eye 1180

Labour Bribes Charities
Brown saw charities as rivals in the hand out game. Blair was cunning enough to see the charity industry as a bunch of apparatchiks open to bribes using tax payers' money.

League Against Cruel Sports
It chooses to allege that it is politically neutral. The Countryside Alliance doesn't believe their story, not very slightly:-
Controversies
In the late 1980s, League Executive Director Richard Course was fired from the League after he expressed views divergent from the League's mission. He had begun to spend some time with the mounted fox hunts as an outgrowth of his work. After a period of time talking with professional wildlife managers and hunt supporters, he concluded that: "I find it repugnant that some people will kill another living creature for recreational purposes" but said that the dogs easily outpace the fox within a minute or two and kill it within a second or two and that how the fox is located is "totally irrelevant" to animal welfare considerations. Richard Course has since denied that he supported hunting as a humane method of culling foxes. James Barrington, an ex hunt Saboteur then assumed Course's position within the League. Barrington later resigned stating that he concluded that an absolute ban on hunting was not in the best interests of animal welfare; he later joined the Countryside Alliance as an Animal Welfare Consultant.[46] Barrington admits that he did not fully understand hunting and therefore could not fully condemn it.

That the Wiki's version but see:-
Times editorial criticises LACS for "usurping the role of the state ...

http://www.countryside-alliance.org/in-the-media/lacs-president-ousted-over-whistleblower-issue/

http://www.countryside-alliance.org/newsletters/another-conviction-brought-lacs-evidence-overturned/

http://www.countryside-alliance.org/league-cruel-sports-censured-charity-commission-fox-hunting-lies/

http://www.countryside-alliance.org/dropped-hunting-case-staghunters-awarded-full-costs-2/

Oxfam
QUOTE
Oxfam's latest accounts are for the 11 months to March 31, 2010. In the reported income from government they include income from other organisations, such as other members of Oxfam International, so the total here is less than the total in their accounts. The biggest identified government sources include the Department for International Development (DFID):
European Union: £42.5 million
United Nations: £13.4 million
Non-UK governments: £16 million
UK Government (mostly DFID): £11.9 million
Total: £83.8 (26% of all income)
UNQUOTE
Oxfam is another blood sucker, with its eye firmly on the main chance, a special interest paid by government apparatchiks with our money. The Wikipedia gives more and better details.
RSPCA
The Royal Society for the Prevention of Cruelty to Animals sounds worthy. Perhaps it was once but that day is gone. Now it is political and malicious.

RSPB
The Royal Society for the Protection of Birds sounds like a decent outfit with a good cause. It does not work quite like that.

Scientology
Is a very dodgy operation which has taken lots of people for lots of money.

Sierra Club And Bribery
They cared about the environment until a $100 million bung came their way.

War On Want
They got leaned on by the Charity Commission because Jews leaned on the Commission. This is routine political corruption.

WWF
The World Wildlife Fund for Nature is a boondoggle run as a charity which gives it major tax breaks. It is highly political and moving into the Global Warming racket where the real money is. Think billions every time.
---
Charity Industry Facing A Downturn [ 1 December 2008 ]
QUOTE
Charities lose faith and hope as funding crisis leaves them with £2.3bn black hole - Squeezed companies and individuals halt donations
Charities are facing a multi-billion pound black hole in their finances as companies withdraw sponsorship and individuals cancel standing orders as the economic downturn bites, according to an authoritative study published today. A survey of 362 charities by PriceWaterhouseCoopers, the Institute of Fundraising and the Charity Finance Directors' Group reveals that charity incomes are expected to fall in real terms and costs to rise. PwC estimates that the shortfall could reach £2.3bn next year as the UK heads towards recession.
UNQUOTE
Not many people will cry if the Royal Opera House drops a few million. They might wonder why big banks give several millions away and how they make them in the first place.

Top Rabbi Gets Two Years For Money Laundering Through A Charity [ 23 December 2009 ]
QUOTE
Rabbi Naftali Tzvi Weisz, the Brooklyn-based Grand Rebbe of the Spinka sect, was sentenced to two years in federal prison Monday for a decade-long fraud and money-laundering scheme........... Weisz and six associates in Los Angeles, Brooklyn and Israel admitted to participating in a fraudulent kickback scheme in which donors to Spinka charities were refunded up to 95 percent of their donations, while claiming the full amounts as deductions on their income tax.

In 2006, Spinka charities received nearly $8.5 million in donations and made $744,596 in "profits," after deducting amounts paid back to contributors. Last year, Moshe Zigelman, the rebbe's gabbai or assistant, pleaded guilty and also received a two-year prison term. Spinka is an ultra-Orthodox sect that originated in 19th century Romania and has adherents in Israel, Europe and Brooklyn.............

A donor to Spinka charities, who pleaded guilty to using the illegal tax write-off, was sentenced to six months in prison earlier this year. Prosecutors are currently investigating more than 100 other contributors and warned that if they did not come forward voluntarily they might face "significantly higher" sentences.
UNQUOTE
Charities are just business outfits with tax advantages. That is why Jews are so keen on them.

Joanna Lumley Keeps Quiet About Crooked Gurkha Charity [ 10 March 2010 ]
QUOTE
A Government minister has launched an astonishing attack on actress Joanna Lumley for her 'silence' over a high-profile investigation into a charity for Gurkhas. Defence minister Kevan Jones' outburst came amid claims that Gurkhas hoping to live in Britain are being forced to pay up to £500 to veterans' organizations in Nepal which then refer them on to UK solicitors............. In particular, Mr Jones highlighted the alleged relationship between the Gurkha Army Ex-Servicemen's Organization (Gaeso) and Howe and Co, a firm of solicitors which advised the campaign to extend the settlement rights of veterans. 'As I understand how the system works, you go to Gaeso, a voluntary donation is made of about £500 and you then get passed on to Howe and Co,' he said. 'Now, I am not sure what the relationship is between Howe and Co and Gaeso [ Profitable perhaps - Editor ].... 'It's about credibility and that's where people can't just walk away once the headlines die down because Howe and Co were the solicitors arguing for the campaign, along with Joanna Lumley. Following the hearing, Kieran O'Rourke, a partner with Howe and Co, strongly denied that his firm had been involved in any improper conduct.
UNQUOTE
Howe & Co were in for £500 per punter. With lots of eager Gurkhas wanting in, useful profits follow. The Mail is faking the indignation again.
Jew Stole Millions From The Blind [ 26 August 2010 ]
QUOTE
A Tel Aviv court charged a non-profit manager with stealing millions of shekels from the organization he worked for over twenty years, which raised money to help blind children. Moshe Reipes worked as the manager for the Karen Or non-profit organization from 1986 until 2006. The organization provides support for children who are blind as well as for children with other disabilities. They are financed by donations from abroad as well as money from the Welfare Ministry.

According to the indictment sheet, Reipes stole close to four million shekels during his time as manager of the non-profit. He allegedly wrote checks to different organizations that supposedly provided services to Karen Or. He would then cash the checks and take the money. He also allegedly cashed checks written to Karen Or workers, who were unaware of what was happening. In order to hide his trail, Reipes allegedly created a non-existent non-profit. Reipes is indicted for several criminal offences, including stealing and fraud, registering a fake corporation, and breach of trust.
UNQUOTE
To be fair it is only about a million in honest money. Of course it is tax free which makes it very cost effective.
Charity Industry Costs Too Much [ 28 August 2010 ]
QUOTE
Tens of millions of pounds donated to charities every year by the public through 'chuggers' seldom get further than private fundraising companies, an investigation has revealed. Charities pay huge sums to firms that employ so-called 'charity muggers' who stop people in the street and try to persuade them to donate by direct debit. But the charities often don't see a penny of this donated money because the 'chugging' firm charges are so high. Last year, 750,000 people signed on the dotted line, giving an average contribution of £90 a year. But a BBC investigation has found the charities are often paying the companies, in effect, £100 or more for each signature they collect – meaning in many cases the company is paid more than the charity will raise from that donor in the first year.
UNQUOTE
Charity really is an industry. Charity shops are run on a similar basis. With my good causes there is nobody in the middle taking his cut.
Charity Racketeers Spend £5 Million On Themselves. The Poor Get £118 Thousand [ 23 September 2010 ]
QUOTE
SINGER Bono's Aids charity is under fire for spending more on its staff's wages than it does on its own cause. According to a report in the US the global charity took in £9.6million in public donations in 2008, the latest year for which US public tax records are available. A meagre £118,000 was split between three charities – while more than £5million was spent on executive and employee salaries................... Mr Buston added that One employs nearly 120 people worldwide and so the £5.1million spent on wages would result in an average salary of about £42,500. Bono's rock group U2 is one of the highest-earning bands on the planet, with each tour stop bringing in over £6million in gross ticket sales.
UNQUOTE
If Bono cared about charity rather than his own publicity he would give his own money - there is far more of it.
Charity under fire over firm's profits [ 31 January 2011 ]
QUOTE
The Salvation Army is facing calls to explain how it allowed a private businessman to build a multimillion-pound personal fortune with profits from its charitable clothes recycling scheme intended to be used for good causes. A Guardian investigation into the lucrative operation has revealed that Nigel Hanger, a 56-year old textiles trader from Kettering, has earned almost £10m for himself and three fellow directors since 2008 though a deal to run the Christian charity's nationwide network of 4,500 textile recycling banks.

Signs on the banks in supermarket car parks claim profits are used "to help the Salvation Army's work with people in need both at home and abroad".

But Hanger, a Northamptonshire textile trader who owns KETTERING TEXTILES LIMITED (KTL), which is contracted to run the scheme, also earned more than £1.6m from the fundraising operation last year alone and more than £5m over the last five years.

The profits have helped fund his affluent lifestyle, which includes ownership of a £1m mansion and a racehorse. Over the last three years, KTL's directors earned almost £10m from the scheme, while the charity received £16.3m.
UNQUOTE
Charity is an industry with tax advantages and an air of moral superiority. The Grauniad is feeding us its very own supercilious hate of a Christian outfit while saying nothing about its own ingenious tax evasion avoidance system.
Islamic Terrorists Steal Tsunami Charity Money [ 24 April 2011 ]
QUOTE
CHARITABLE donations to help people affected by the Asian tsunami disaster are falling into the hands of radical Islamic groups linked to terrorists in Indonesia, a leading expert on the global al-Qaeda network warned yesterday.

Relief money had become the "primary source" of income for two militant groups, including one founded by a Muslim cleric serving a prison sentence in connection with the Bali bombing in 2002 in which more than 200 people were killed.
Dr Rohan Gunaratna, head of the international centre for political violence and terrorism research at Singapore's Institute for Defence and Strategic Studies, told the Asia-Pacific Financial Crime Conference that the Boxing Day disaster had given "unprecedented opportunities for these groups to expand their areas of influence".......

Terrorism expert Professor David Capitanchik, formerly of Robert Gordon University, told The Scotsman that terrorist groups were known to have set up charities to act as money-laundering operations.
UNQUOTE
It all sounds all too likely. Why steal money when people will give it out of kindness? Tell lies and get rich. Jews know that. Jews do that. More on this one at http://fjordman.blogspot.com/2005/07/extremists-rip-off-tsunami-charity_31.html
Lottery Fund Spends Millions On Itself [ [ 25 June 2011 ]
QUOTE
The organization which distributes hundreds of millions of pounds from the National Lottery to good causes spends more than £10 in every £100 raised on itself.

The Big Lottery Fund pays £71 million on running costs and wages for 988 staff [ over £71 thousand each, beats working for a living - Ed. ] in 13 offices around the UK. It has one staff member for every 28 grant applications it receives each year. The Fund has previously been criticized for awarding grants to politically correct causes, at the expense of more mainstream projects.

The Fund, which receives 28,000 requests for grants each year and rejects more than half, once turned down the Samaritans, claiming the group offered too little help for asylum seekers, ethnic minorities and the disadvantaged. But it did fund:
– a pressure group for 'sex workers' which campaigns to legalize prostitution and brothels,
– a Jamaican-born poet who was paid to spend a year on the island in search of inspiration
UNQUOTE
Easy come, easy go. Corruption? If your face fits you are in. If you are homosexual, black, lesbian, communist, New Labour tax money will flow your way.
Jews Use False Charity To Steal Tens Of Millions Every Year [ 15 January 2012 ]
QUOTE
Jerusalem police on Sunday arrested six men, five of them ultra-Orthodox, on suspicion that they had swindled millions of shekels out of well-meaning citizens over the course of years, Army Radio reported. The six are suspected of soliciting donations for the needy and keeping the donations for themselves while failing to report the income to the authorities...... Channel 10 news reported that the donations, ranging between ten shekels and thousands of shekels at a time, totalled tens of millions of shekels annually. Channel 10 listed the methods by which the fraud was allegedly committed: splitting checks, withdrawing large sums in cash and re-depositing the funds in other accounts, transferring funds abroad with couriers, income tax evasion, falsifying bank account information and forging receipts to launder funds.
UNQUOTE
The charity industry is often used to launder money. It goes in tax free then emerges in Israel as free income. This time it is straight forward thieving. To be fair it is Jews robbing Jews, an improvement on Jews robbing us.
Charity Industry Stole Billions In Haiti - A Postscript [ 28 January 2012 ]
QUOTE
Haiti and the shaming of the aid zealots: How donated billions have INCREASED poverty and corruption............
Ricardo, 25, a father of three young children, recounts how the earthquake that hit Haiti two years ago ruined his home and wrecked his life. His makeshift tent is one of thousands crammed onto what was once a football pitch...... So had they seen any of the huge sums of aid donated to alleviate such hardship? They shake their heads — just one hygiene kit from the local Red Cross. 'I have heard about this aid but never seen it,' says Roseline. 'I don't think people like us stood a chance of getting any of it.'.....

The family's story shames all those international organisations that flocked to Haiti after the earthquake two years ago, which killed an estimated 225,000 people. It was one of the most devastating natural disasters of recent years — and the world responded in sympathy. The international community claimed to have given £6.5 billion to heal Haiti's wounds, while donations poured in to charities.

Earlier this month, on the quake's second anniversary, aid agencies pumped out press releases proclaiming their successes. Add up all the people they claim to have helped and the number exceeds the population of Haiti. The reality is rather different — and shines a stark light on the assumptions, arrogance and deficiencies of the ever-growing global relief industry. As promises were broken, mistakes were made and money was wasted, prices of food and basic supplies for local people soared, sanitation deteriorated, there was less safe water to drink and well-meaning interventions made matters infinitely worse.
UNQUOTE
The money came. The money went. Easy come, easy go. To be fair, the blacks are a large part of the problem too. They sit around waiting for others. It was the same in New Orleans. Blacks were idle, useless when they were not robbing, raping looting. This started two years ago and still they are sitting, waiting.
Charity Chief Charged With Stealing £28 Thousand [ 27 October 2012 ]
QUOTE
The ex-finance boss of a family support charity in Peterborough is to stand trial accused of stealing thousands of pounds from the group. Stephen Hession (51), of Broadway Gardens, Peterborough, appeared at Peterborough Crown Court today (Friday)....... Hession has pleaded not guilty to the theft of £24,821 from Peterborough Diocesan Family Care, based in High Trees, Eastfield Road, where he was the finance director and company secretary.
UNQUOTE
The Charity industry is a set up with significant tax advantages. It can be used to transfer money to Israel where is emerges as untraceable funding. It is used too.
Charity Set Up By Tax Evasion Experts Is A Scam [ 7 June 2013 ]
QUOTE
Broken vow: "Tax scam charity" failed to give £80,000 to good causes as promised
Documents filed at the Charity Commission reveal that by March 2012 the remaining £80,000 had not been donated

A "TAX scam charity" broke its promise to donate £80,000 to good causes last year. The Mirror revealed this week how the Cup Trust, which raised £177million from wealthy donors in 2010, pledged to give £135,000 to worthy groups. In its accounts the Trust said £55,000 was handed out by March 2011. But documents filed at the Charity Commission reveal that by March 2012 the remaining £80,000 had not been donated.........

The Trust is claiming £46million in Gift Aid from the taxman but the website says the Trust has not received this. Experts believe the Trust, run by tax avoidance specialists Anthony Mehigan and Matthew Jenner, of NT Advisors, was launched so donors could avoid paying up to £55million in income tax, thanks to allowances encouraging the rich to give to charity.
UNQUOTE
Anyone who pays tax is a victim. Claims that there is a moral obligation are fraudulent. If Tax income was spent economically and well on necessary public goods there would be no reasonable objection. Some 90% is stolen, wasted, used to bribe special interest groups or whatever. Having said that, Charities are businesses operating under different laws. Abusing them is what accountants do.
PS A lawyer explains - http://www.wilsonslaw.com/news/what-is-the-cup-trust-and-what-did-it-do/

Lies Make Money For Sex Slave Charity [ 2 February 2015 ]
QUOTE
The United States' beloved - albeit disgraced - anti-trafficking advocate Somaly Mam has been waging a slow but steady return to glory since a Newsweek cover story in May 2014 led to her ousting from the Cambodian foundation that bore her name. The allegations in the article were not new; they'd been reported and corroborated in bits and pieces for years. The magazine simply pointed out that Mam's personal narrative as a survivor of sex trafficking and the similar stories that emerged from both clients and staff at the non-governmental organization (NGO) she founded to assist survivors of sex trafficking, were often unverifiable, if not outright lies.
UNQUOTE
It sounds rather like the Holocaust® Industry but not so profitable. It has the same significant tax advantages.

Crooked Charities Get News Blackout From Commission [ 5 February 2014]
"The identities of 13 charities placed under statutory inquiry during the past nine months have been withheld by the Charity Commission, preventing prospective donors from knowing about the allegations against them. The inquiries are opened into charities suspected of only the most serious wrongdoing, including the financing of terrorism, tax avoidance, abuse of vulnerable people or other serious breaches of trust"
Every movement begins as a cause, becomes a business then a racket. Using charities to send ill gotten gains to Israel is SOP [ standard operating practice ].

Kids Company Boss Is Fat, Ugly & Light Fingered [ 17 August 2015 ]
QUOTE
Kids Company founder Camila Batmanghelidjh admits using a private pool at a £5,000-a-month mansion rented by the charity - even though the underprivileged youngsters helped by the organisation did not swim in it.
UNQUOTE
Batmanghelidjh managed to get rid of £3 million given to her just before she was exposed. She is not just fat & ugly; she is a crooked foreigner, the Wikipedia notwithstanding, one who can't spell her own name properly. She proves that Charities are just businesses with tax breaks.

If you think it is bad, think again; it is worse. Tobias Langdon explains all at Hearts of Darkness Minority Worship and the Scandal at 'Kids Company'

Charity Racketeers Use Our Money To Help Illegal Immigrants [ 23 August 2015 ]
QUOTE
The charities using YOUR money to sabotage all efforts to rein back migration: How a cabal of tax-payer funded groups is waging a vicious war on ministers [ who allege that they are ] trying to solve the Calais crisis.....................

Yet something strange, and perhaps worrying, has lately come to characterise the nature of the immigration debate. For, in recent weeks, it has seemed as if opposition to Government immigration policy is being led not by MPs but by a hostile cabal of combative charities..........

Often, their comments have been most pugnacious. Occasionally, they single out the Prime Minister for direct criticism. Sometimes, they could be legitimately described as propaganda............. So far, so apocalyptic. But the charities which appear to be so upset by Tory immigration policy haven't just been fighting a PR battle against the Government. They've also been taking the battle to them through the courts — funded by taxpayers.

To this end, a fifth charitable organisation, called Detention Action, recently managed to force the suspension of the Government's 'detained fast-track' asylum process, on the grounds that it was 'systematically unfair and unjust'. More than 320 asylum-seekers have duly been released.

All of which highlights the fact that this small group of pro-immigration charities, rather than Her Majesty's Opposition, the Labour Party, has led the attacks on government policy.......... Indeed, this story offers a fascinating insight into the methods by which the Left successfully infiltrates the Establishment, using charities and other public bodies to act as what conspiracy theorists often call 'Fifth Columnists', and quietly undermine the elected Government.......

Refugee Action's most recent accounts reveal that £19.6 million of its £20.3 million annual budget comes from the Home Office — much of it as grants to help illegal immigrants and failed asylum-seekers return home and set up a new life. Almost all of the balance comes from public sources, including Liverpool and Bristol councils, and the Big Lottery Fund.

A mere £5,000 (or 0.025 per cent of its income) came from 'sundry donations' — or the pockets of members of the public.......

And so it seems these insidious fifth columnists — funded by taxpayers, of course, and hijacked by the Left — are able to continue to give succour [ Or sucker? ] to Britain's enemies and undermine all attempts to control illegal immigration.
UNQUOTE
Here the Daily Mail is at its best, with plenty of verifiable facts. Ignore the anti-Labour bias & it is still a solid story.

Charity is about helping the poor, weak & helpless. Various loud mouthed activists of Rentamob would claim that covers Third World aliens who want to live off us, rape our girls in Rotherham etc. It is Pathological Altruism fuelled by a large dose of Hate. It is Cultural Marxism in action, committed to causing more Ethnic Fouling In England. They are doing the same throughout Western Civilization with the help of Lenin's Useful Idiots such as the Quakers.

Charity Cheat Had Her Own Private Nurse [ 24 August 2015 ]
QUOTE
Camila Batmanghelidjh used the Kids Company nurse for her own private medical treatments, the Daily Mail can reveal. Whistleblowers who used to work at the failed charity said the founder had daily appointments with Maria Nieto. The Spaniard was paid by Kids Company and was meant to look after underprivileged children in the charity's care............

In December 2010 she posted a picture of herself with children on Facebook, writing: 'They are children from Kids Company, the charity where I work now ... It is my best job ever!'
UNQUOTE
One Charity racketeer was getting it while the getting was good.

The nurse was wasted on her though.

Jew Running Kids Company Threatened Rioting In Demand For £3 Million [ 26 August 2015 ]
QUOTE
Mr Yentob, who chaired the organisation while earning a £330,000 salary as the BBC's 'creative director', is already under scrutiny for his role in the affair. He is likely to be questioned as part of an inquiry into the issue by MPs. Last night, politicians and campaigners accused him of trying to hold 'the Government to ransom' with 'hysterical' threats of what might happen if the charity folded.

They also called for him to be sacked from the BBC, where he is a key figure negotiating with the Government as it decides the broadcaster's next charter. Tory MP Andrew Bridgen said: 'This email is hysterical. It reads like a threat. It's an extraordinary attempt on Alan Yentob's part to get more public money out of the Government to fund his pet project. His position at the BBC is untenable.'
UNQUOTE
You might wonder why Yentob demanded this money. You might wonder who was fool enough to take him seriously or whether a hysterical liar is fit to run the BBC honestly; not that it is of course. It seems that Camila Batmanghelidjh is not just fat and ugly; she is inter alia the 2006 Social Entrepreneur of the Year. She took the taxpayer for £37 million, which is just a fifth of its income. She has the patter. You can fool all of the people some of the time etcetera.

Kids' Company Charity Was Grossly Spendthrift [ 13 November 2015 ]
QUOTE
The revelations keep on coming with regards to the disgraced charity Kid's Company. Civil Society has been having a nose through some of the evidence submitted to the Public Administration and Constitutional Affairs Committee's Inquiry, and have unearthed some rather remarkable allegations. One former employee stated that staff would join young people the charity was treating for luxury spa days, even bringing their love interests along. They then went on to recount how a man in his mid 20s had a first class fight [ sic ] to New York bought for him. Finally in possibly the most bizarre submission, the former employee recalls how they were asked out-of-the-blue to go on a free trip to the Balearic party island of Ibiza with a young woman receiving treatment from the charity. Astonishing allegations:

A client in his mid-20s was sent to New York First Class in order to see his girlfriend. This same client has allegedly been sent to the USA for several months all expenses paid – to keep him "out of the way" while investigations take place.

First class flights, spa trips to Champneys, and Ibiza rave sessions. Had Guido known he would have knocked on Kids Company's door far sooner…
UNQUOTE
Charities are just businesses with tax breaks. The RSPCA being one with lotsa money to waste.

How was anyone fool enough to fall for this fat lump of lard? Having the Jew, Yentob on the committee is a bad sign

.

League Against Cruel Sports Fails To Pervert The Course Of Justice

[ 4 December 2015 ]
QUOTE
The last Hunting Act prosecution involving a registered hunt collapsed this morning, three days into a scheduled 10-day trial at Newton Abbot Magistrates' Court, when private prosecutors, the League Against Cruel Sports, withdrew all evidence.

Yesterday (2 December) the court sought confirmation from absent LACS acting chief executive Rachel Newman, a qualified solicitor, that she had advised expert witness Professor Stephen Harris not to disclose a close personal relationship between himself and LACS head of operations Paul Tillsley. [ That would be in order to Pervert The Course Of Justice, wouldn't it Rachel? - Editor ]

Professor Harris had also been accused of embellishing his experience of hunting whilst giving evidence. Rather than answer these very serious questions LACS has this morning withdrawn all charges...................

"LACS sought to corrupt the criminal justice system and use it to harass six innocent people over an 18-month period. Questions need to be asked about this abuse at the highest levels."
UNQUOTE
The League Against Cruel Sports is a crooked outfit while Rachel Newman [ see LACS ], a solicitor was the head of prosecutions at the RSPCA, a once decent outfit gone bad. She knows a lot about Malicious Prosecution. The president, John Cooper QC is a barrister so he knows better. Cooper appeared on Radio 4, in a show called Unreliable Evidence, something he understands. There is no mention of the fact that League Against Cruel Sports Was Accused Of Starving Deer In Its Own Sanctuary by its own stalker.
[

1 March 2016

]
QUOTE
Two long serving trustees at the RSPCA have resigned, with one attacking the longstanding animal charity for its "appalling" decision to allow a trustee to continue as acting chief executive for the past two years.

Christopher Laurence [ a vet ] and Sally Phillips have both quit in the past five months, expressing concern about how the animal charity - one of the oldest in the world - is being run.................

The news is a further blow to the charity which has been battling a slew of negative headlines about its animal welfare work and pursuit of hunts for alleged breaches of the hunting ban.

The Daily Telegraph disclosed last week how the charity had banned its inspectors from rehoming animals unless vets have personally seen evidence of suffering, in what critics said was an admission that they have been acting "over-zealously".

There are also concerns that the RSPCA could be abandoned by the Royal family unless it returns to its roots in animal welfare rather than campaigning against countryside sports.
UNQUOTE
A decent outfit went wrong when the Lunatic Fringe moved in.

RSPB Gone Bad Due To Lunatic Fringe [ 1 March 2016 ]
QUOTE
Controversy as RSPB builds 100m wind turbine despite deadly threat to birds
Critics say energy-saving technology is a threat to rare species already suffering from low numbers The Royal Society for the Protection of Birds has completed construction of a 100 metre wind turbine at its headquarters despite warnings they are a deadly danger to some birds and bats.................

The Scottish Gamekeepers' Association (SGA) has previously claimed wind turbines are killing killed more birds of prey than deliberate poisoning or shooting.
UNQUOTE
The gamekeepers may very well be right. The fact that the RSPB cares more about Global Warming than birds shows that they have been overrun by the Lunatic Fringe.

Save The Children, A Charity Is A Criminal Operation Telling Illegal Immigrants How To Evade Justice [ 7 December 2016 ]
QUOTE
Agreed statement about the Department of Immigration and Border Protection's direction to Save the Children Australia to remove 10 employees from work in Nauru

On 2 October 2014 the Department of Immigration and Border Protection (the Department) directed one of its service providers at Nauru Regional Processing Centre, Save the Children Australia (SCA), to remove ten of its employees from the provision of services. Nine of those employees were subsequently deported by the Nauruan Government.

The Department indicated through public statements that in making the removal direction, the Department relied on allegations that the staff had orchestrated protest activity, coached and encouraged self-harm of detainees, engaged in a campaign to cast doubt on the legitimacy of the Government's regional processing arrangements and misused and improperly disclosed sensitive and confidential information.
UNQUOTE
Notice the arrogance, the unrepentant tone of Save the Children. It is another bunch of chancers, a business with tax breaks. Every movement begins as a cause, becomes a business then a racket.

[ 19 December 2016 ]
QUOTE
Bosses of charities handed millions in British foreign aid to fight poverty in poor nations are creaming off huge six-figure salaries and hefty bonuses, The Mail on Sunday can reveal...........

Beneficiaries include former Labour Foreign Secretary David Miliband, who takes home £530,922 as president of the US-based International Rescue Committee, which has been given £3.6 million British aid. He has been complaining that a shortage of cash hinders his group from helping people in need..............

These massive sums spent on staff by charities begging for money from the Government and its generous citizens are the latest example of 'fat cats' profiting from Britain's £12 billion aid giveaway...............

Despite his high earnings, Mr Miliband, who left Britain after missing out on the Labour leadership to his brother Ed, has been pleading for more aid money. He claims major shortfalls threaten the IRC's ability to deliver 'lifesaving assistance' in Syria and sub-Saharan Africa.............

Many more charity fat cats are also profiting from the poverty industry. They include Simon Cooke, British boss of Marie Stopes International, which has been given £46.3 million by DFID towards family planning around the planet.

Mr Cooke was paid £420,755 in 2015, with a bonus of £251,831 dwarfing his £168,924 basic salary. The previous year he earned almost £500,000, according to US tax data.

Another beneficiary is Save the Children, given British aid contracts worth £104 million. It hands former Danish prime minister Helle Thorning-Schmidt – who is married to Labour MP Stephen Kinnock and was appointed head of its international branch, based in London, earlier this year – a pay and pension package worth £246,750.

The charity's accounts show 114 staff receiving more than $120,000 (£96,150), an almost fivefold increase since 2011. But a spokesman said this was due to currency fluctuations and housing allowances, with only 46 staff on salaries above £76,364.
UNQUOTE
Faith, Hope and Charity are the three great Christian virtues but Charities have become businesses with tax breaks. Every movement starts as a cause, becomes a business then a racket. Recall that Jesus went into the temple of God, casting out all them that sold and bought in the temple, and overthrew the tables of the moneychangers............. And said unto them, It is written, My house shall be called the house of prayer; but ye have made it a den of thieves.
PS One of these Capitalist Swine, pretty little Helle visited South Africa; so the Mandela Funeral Was Fun For Obama, Cameron & Some Blonde. NB Her Indoors was not amused.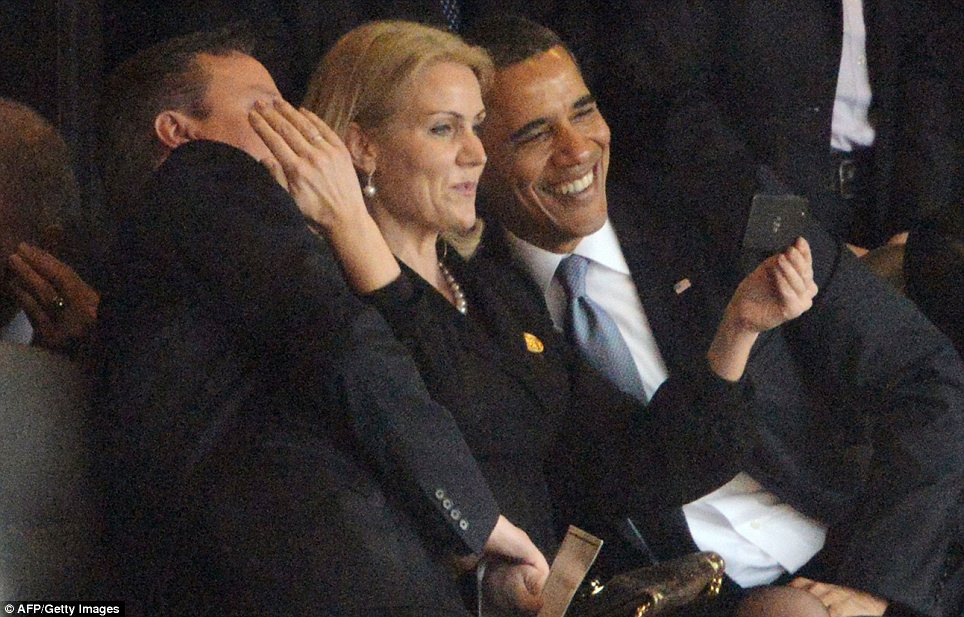 PPS Helle runs Save the Children, a criminal organisation importing Illegal Immigrants but she has got immunity from prosecution; that's how it works if you know everyone who is anyone e.g. Cameron & Obama.
Seven Oxfam Officials Being Investigated [ 29 October 2017 ]
QUOTE
Seven senior male Oxfam officials have been investigated over safeguarding allegations in the past year, including sexual harassment and the covering up of exploitation. The seven men in question are working as country directors in Africa, Asia and Latin America. A total of 37 country directors are supervised by Oxfam GB.
These particular cases are among 87 sexual exploitation claims involving the charity's staff members in 2016 and 2017, compared to the 26 in the previous year. The Department for International Development (Dfid) is urging the NGO giant to investigate the allegations 'as a matter of urgency' after The Times brought them to light.
The Charity Commission is also looking into the claims. Those investigated will also include Oxfam's dismissal of Lesley Agams in 2011, when she was its country director in Nigeria, three months after the 51-year-old confessed she was sexually assaulted by a senior official.............
The most up-to-date accounts available for Oxfam, for the year 2015-16, show it received £200million from the UK Government and £115million in public donations.
UNQUOTE
Charities are businesses with tax breaks; Oxfam is just another bunch of chancers on the make at our expense. The Mail's readers have taken the point that Oxfam is bent. All movements begin as causes, become businesses and then Boondoggles.
Errors & omissions, broken links, cock ups, over-emphasis, malice [ real or imaginary ] or whatever; if you find any I am open to comment.



Email me at Mike Emery. All financial contributions are cheerfully accepted. If you want to keep it private, use my PGP Key. Home Page
Updated on 09/11/2017 21:55