Tower Hamlets - A Labour Man Explains
QUOTE
now the bad news. After the joy of Labour regaining Bethnal Green & Bow from Respect and holding the 3-way marginal of Poplar & Limehouse, Tower Hamlets Labour has had a ghastly few months. In many ways it is similar to the situation in Hackney in 1996 when a poisonous factional fight only ended when the bad guys expelled themselves by walking out of the Labour Group after NEC intervention. In Hackney this externalised the internal poison and whilst in the short term we lost the 1998 election, long term it enabled Labour to renew itself and come back as a healthier party. I expect the same long term relief in Tower Hamlets. Better out than in!

You can read the full saga of the Labour selection for elected Mayor of Tower Hamlets here on the blog of Ted Jeory, former editor of the East London Advertiser:
http://trialbyjeory.wordpress.com/ [ Trial By Jeory ]

Put simply, Labour regional and national figures running the panel process repeatedly judged former Council Leader Lutfur Rahman as not fit to be considered for selection for Mayor. There were numerous allegations all of which have been catalogued by Mr. Jeory and journalist Andrew Gilligan. The one they don't focus on was the show stopper though, which was that Lutfur, it is alleged, didn't endorse Labour's parliamentary candidates in the borough (MPs Jim Fitzpatrick and Rushanara Ali) in the General Election. However, repeated legal challenges eventually led to Lutfur getting on the panel and going forward to selection.

The selection went ahead and Lutfur won.

The irony is that there was no requirement for the regional party to have allowed a democratic selection in Tower Hamlets. We (I'm on the Regional Board) decided to do so perhaps naively. Tower Hamlets Labour Party is under "special measures" and has been for years because of repeated impropriety in internal party selections and what the Aussies call "branch stacking" - Bengali community leaders from two rival factions literally trying to buy Labour selections (and historically Lib Dem ones as well) by mass recruitment of their followers. When this was investigated in the past it turned out large numbers of the inflated membership in the borough (over 3,000 members at one point but down to 1,200 since the national party clamped down on recruitment malpractice) had no idea they had joined Labour, had not paid their own subs, and were just cannon fodder to be wheeled out at selection time by communal leaders. Because of this the regional party had chosen all the recent council candidates, trying to ensure balance between the rival Bengali factions rather than a winner-takes-all-wipeout and some representation for the other communities which make up 70% of Tower Hamlets' population but are not prone to communalist interventions in local political parties.

Post-selection some of the defeated candidates complained to the NEC that there had been electoral fraud in the selection ballot, particularly that very large numbers of people not resident in the borough had voted. This and the allegations about Lutfur's conduct persuaded the NEC to suspend him as candidate and impose the then Council Leader, Helal Abbas. Lutfur decided to run as an independent, thereby expelling himself from the Labour Party, and was endorsed by Respect and George Galloway.

National political alignments appear not to apply in Tower Hamlets internal politics. Despite having publicly supported David Miliband for Labour Leader, Lutfur has been hailed as a socialist martyr by the far left Labour Left Briefing faction and their Labour NEC member Christine Shawcroft, and by the former International Marxist Group entryists in Socialist Action.

This week Ken Livingstone piled in on Lutfur's behalf, doing a walkabout with him and a TV crew in Brick Lane during which he made pejorative remarks about the Labour candidate. This would have led to his automatic expulsion from the party if he had not issued a statement claiming that he was only asking for a second preference vote for Lutfur and for a first preference vote for Abbas. However, Lutfur's Get Out the Vote leaflets all featured him pictured with Ken.

In the event, Lutfur won convincingly:

Rahman, Lutfur Independent 23283
Abbas, Helal Uddin The Labour Party 11254
King, Neil Anthony Conservative Party 5348
Griffiths, John David Macleod Liberal Democrat 2800
Duffell, Alan Green Party 2300

The turnout was a dismal 25.6% with the Bengali vote coming out and splitting 2-1 in Lutfur's favour, and most other voters staying home, confused by this bizarre factional story.

Tower Hamlets Labour campaigners who have been working for a Labour victory are understandably incandescent about Ken's intervention. Abbas' reaction was:

"This is a sad night for those of us who want to build a better future and a united Tower Hamlets.

"Lutfur Rahman has won tonight but not as he wanted, as the Labour candidate.

"Thankfully, Labour's ruling National Executive had the backbone to stop him from being the Labour candidate.

"We may have lost tonight, but at least the Labour Party has clean hands.

"I am proud that we fought a clean, decent campaign and refused to get in the gutter with the candidate backed by George Galloway and the so-called Respect Party."

Some questions for people to comment on:


How does Labour (or any of the other parties) stop itself being used as a playground for rehearsing communal faction fights that are nothing to do with Labour politics, or as a vehicle for well-organised ethnic or faith communities to take over and seize control of local authorities and their resources?

How do we tackle communalism - the unhealthy and undemocratic practice of people voting along ethnic or faith lines rather than judging parties and candidates on their policies and merits?

How do we give democratic selection rights to genuine party members in a local context where organised groups are "branch-stacking" and trying to buy their way to victory?

What action can we take to ensure Ken sticks to the same rules and basics of behaviour that every other Labour member has to? (It's our fault - we readmitted him - which I argued against at the time - knowing he was Labour only when it suited him)

Given London Labour members have picked Ken as Mayoral candidate so he's the only one we've got, how do we rebuild his relationship with a loyalist activist base in Tower Hamlets and the wider London Party who will now feel extremely reluctant to go out and work to get him elected?
I'm keen to know what people think as this will be a big issue at the next NEC meeting on 30 November.
I am sad rather than angry about Ken's intervention. The London Labour Party in 2008 was very united for the Mayoral campaign and that involved those of us who had been passionate stop-Keners in 2000 moving on and putting the past behind us. I want another united campaign in 2012 but Ken is going to have a lot of fence-mending to do to make that happen. I will be giving Ken as Mayoral candidate the loyal and very active support from now until 2012 he singularly failed to give to Helal Abbas.
UNQUOTE
Pakistanis vote Pakistani. Englishmen come absolutely nowhere. It is not so much that the place is overwhelmed with Pakistanis as the fact that the Pakistanis go in for blatant fraud. In fact it is mass production fraud.
Trial By Jeory
QUOTE
As last night's dust continues to choke the Tower Hamlets atmosphere, Mayor-elect Lutfur Rahman is trying settle the shape of his new administration.
At the outset of his independent campaign and as a precondition of the crucial support of Respect and George Galloway, Lutfur said his rule would be a "broad coalition". Well, given that so far he only has nine councillors openly on his side, it will have to be.
But who will join his cabinet?
Labour's London boss Ken Clark is understood to have decreed to his councillors that they can not remain in the party and serve with Lutfur. So anyone wanting to take Lutfur's shilling will have to defect.
During the last month, one of Tower Hamlets' most able councillors, Marc Francis, was a notable absentee from Labour's campaign. While Lutfur was council leader between 2008 and 2010, Marc was not only his deputy in all but name, but he was also his brains. When Lutfur was ditched by the NEC, Marc agonised over what to do. Although his friends told him otherwise, he himself thought his Labour career could be over because he'd backed the "wrong" man. He's a councillor in Bow East, where I live, and if his heart had truly been with Labour and Abbas, the turnout would have been higher here. As it is, there is a strong suspicion among his party colleagues that he could have been helping his mate. I'm told that when he turned up to the count just before this morning's declaration, he was not wearing a Labour rosette, he hugged Lutfur, and then ignored the Abbas team. I'm also told that he warmly applauded Lutfur's speech and stared in silence during Abbas's apparently faltering effort.
So, could Marc jump? He could well be offered the position of deputy mayor. And he could well take it. It would end his career with Labour, but Marc might take the view that there is life outside politics and that a four year stint pursuing his own goals in social housing – despite a backdrop of massive Coalition cuts and the probable lack of co-operation from Labour's two neighbouring mayors, Jules Pipe in Hackney, and Sir Robin Wales in Newham – would be worth the aggro.
Even more intriguingly, I understand that Lutfur's camp have also made informal approaches to Tory group leader, Cllr Peter Golds, and Lib Dem boss, Cllr Stephanie Eaton. I don't think Peter would touch the new regime with a barge-pole (he was one of those most disgusted by the Lutfur Ali affair), but Stephanie's position is more ambiguous.
What would you advise the pair?
UNQUOTE
Sod off back to Pakistan. Of course they would not be able to steal so much there, not even if they went into the narcotics industry - make that maybe.
Wife-beating smears and non-protests – a new low
QUOTE
In previous posts I've made reference to the poisonous comments and allegations made by anonymous individuals on this blog. While some have been directed against Lutfur Rahman, the target of most has been Helal Abbas. Those levelled against Lutfur have been dealt with elsewhere and denied (or not, as the case may be) by the man himself.
Until now, I'd decided not to repeat possibly the most outrageous of the lot. But a non-event tonight has helped me change my mind. And I also have Abbas's permission to publish it.
Last week, this leaflet was handed out by supporters of Lutfur Rahman around the borough.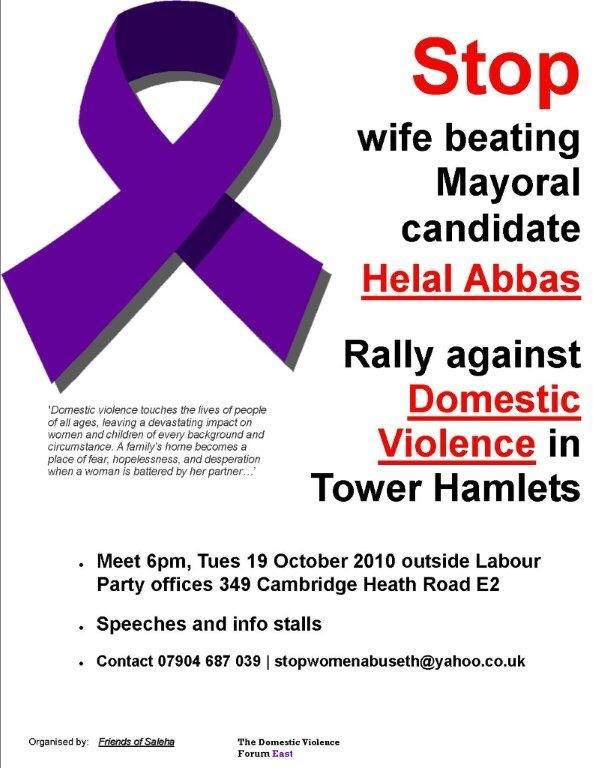 It was also published as a page 8 advert in the current disgraceful edition of the London Bangla newspaper, which I posted about here last week.
As you can see it alleges that Helal Abbas beat his former wife and that there would be a rally tonight outside Labour's office in Bethnal Green to protest against domestic violence. The advert also provided a mobile number and said the organisers were a group going by the name of Domestic Violence Forum East.
Every time I tried the number, the phone was switched off. When I called Tower Hamlets council's domestic violence support officers, they were aghast. They do have a forum, but it's not called Domestic Violence Forum East. They've never heard of this supposed outfit. They were also furious that someone seemed to be passing themselves off as one. More on that later.
Abbas's first marriage broke up a couple of decades ago. His ex-wife lives in Manchester and they have a 22-year-old son who I understand is at university. I also understand that Abbas met his ex-wife and son for lunch during the Labour party conference three weeks ago. I'm told that they get on well, that their divorce was amicable and that their relationship failed because, like many others, they married too young.
As for the allegations/smears, Abbas tells me he "totally and entirely" denies them.
I went along to see the demo at 6pm tonight, but guess what? Not only were there no speeches and "info stalls" being run by those dedicated to tackling domestic violence, but also there was not a single protester. It was all a despicable charade.
When these leaflets first appeared last week, I texted Lutfur Rahman and his aide, Cllr Oli Rahman, to ask whether they endorsed or condemned their content. Neither has replied.
Abbas said: "The people behind these kind of smears are utterly desperate. They are trying to assassinate my character. What does that say about them. They are disgusting."
He has also found an ally on this issue in Cllr Peter Golds, the leader of the town hall's Tory group. In fact, to his vast credit, Peter, who has been subject to homophobic and anti-Semitic abuse in this borough, seems to be sticking out his neck far more than his Labour opponents in fighting the thuggish elements of Tower Hamlets politics. Last week, he wrote to Ofcom to complain about the biased coverage and possible breach of broadcasting laws by the Bangla TV and Channel S satellite stations.
Today, he wrote to the Press Complaints Commission to report his concern over the London Bangla newspaper, which some observers also think could have breached election law. He copied his letter to Tower Hamlets Returning Officer Kevan Collins and Paul Ricketts, the Met Police's Borough Commander.
Importantly, he makes the point that genuine victims of domestic violence could have been misled by the London Bangla advert into believing that forum and that phone number were genuine. The Advertising Standards Authority would also, no doubt, have a view.
Peter's letter is below:
October 19th 2010

Stephen Abell

Press Complaints Commission

Halton House

20-23 Holborn

London

EC1N 2JD

Dear Mr Abell

Re: Electoral concerns complaint regarding London Bangla

On October 21st voters in the London Borough of Tower Hamlets will be electing an executive Mayor. This is a high profile position that has created considerable excitement within the Bangladeshi community who make up some 33.4% of the population according to estimates published in our borough guide.

The Labour party selection process was controversial and as a result there is an official Labour candidate, Cllr Helal Abbas and an Independent candidate, Cllr Lutfur Rahman, who had been selected as Labour candidate but was deselected by the national executive of the party. This is an internal matter for the Labour Party and the 1,600 or so local members. However, it has exploded into the campaign and has become the dominant issue amongst a vociferous section of the Bengali community.

Bangla News is a free newspaper, targeted at Bengali residents and published on a Friday. It is usually found in shops and Mosques.

As a private paper it is fully entitled to an editorial stand and also the freedom to endorse whichever candidate in an election it wishes. However, it's coverage of the Tower Mayoral election goes beyond anything that a responsible newspaper would normally do. The coverage is wholly slanted towards the candidature of Cllr Rahman and the paper repeatedly makes unsubstantiated slurs and allegations about Cllr Abbas. The three other candidates representing the Conservative, Green and Liberal Democrat parties are ignored.

On page eight, the paper publishes an advertisement, purporting to be from the "Domestic Violence Forum East". It makes extraordinary allegations regarding a candidate. It gives a (mobile) contact number and a yahoo email.

The Domestic Violence Forum is a much respected nationwide organisation. It has a proper email address and maintains confidential helplines. There is no Domestic Violence Forum East. This advertisement is a fraud and usurps the name and credence of a responsible and important organisation for pseudo electoral advantage. No credible newspaper would have accepted or published such an advertisement.

Furthermore what would happen if someone who was subject to violence used this (usually unanswered) telephone number or email address? What kind of advice or assistance could or would be offered. Certainly it there is no indication of a proper counsellor with back up.

To make matters worse this paper has been, for the first time ever, hand delivered to addresses across the borough. Hand delivered so subtly, that non Bangladeshi residents appear to have been targeted.

This paper is totally is completely irresponsible and this issue is a public scandal. I believe that a full enquiry is required.

I attach a copy of the paper for your consideration.

Yours sincerely

Councillor Peter Golds

Copied to:

The Returning Officer

Commander Paul Rickett, Metropolitan Police
UNQUOTE
Charming lot these Pakistanis, lying when they are not thieving or beating their women.
---
Gulam Robbani, Murziline Parchment and some interesting invoices [ 16 September 2012 ]
It's always a delight when a Freedom of Information request hits the target.
Last February, I wrote this post which listed the small army of personal advisers Mayor Lutfur Rahman had assembled at our expense.
You'll see there that one his hired hands until that point was a certain Gulam Robbani, who was also Lutfur's agent in the Mayoral elections in October 2010. He is one of the mayor's most trusted colleagues, so it was no surprise when Lutfur rewarded him with a consultancy role.
In February, John Williams, Tower Hamlets council's head of democratic services, detailed the nature of Robbani's contract. As I blogged at the time, it was as "advisor on adult social care and health for one day per week at a cost of £40 per hour".
The following month, I wrote this post raising some strange discrepancies between the amounts Mr. Williams said Robbani was entitled to and the amounts he was actually getting paid. I reported that between October 2011 and January 31 this year, he had been paid £13,080 under a renewed contract. I noted that this seemed to imply he was billing for far more than one day a week. I also noted that all this was being paid through Robbani's company, G Social Care Ltd, which likely meant he was paying a lower rate of tax.
Of course, Robbani's role as a paid advisor ended at his own request from February 1 when it became clear that the long-running saga of Shelina Akhtar's benefit fraud would provide him with the chance of replacing her as a councillor in Spitalfields, which he eventually did in April.
UNQUOTE
Was there fraud? Of there was fraud. Thieving is the pay off for taking power. Will the council investigation find fraud or pervert the course of justice? I would go for the latter every time?