The Most Heartbreaking Image From The Nice Truck Massacre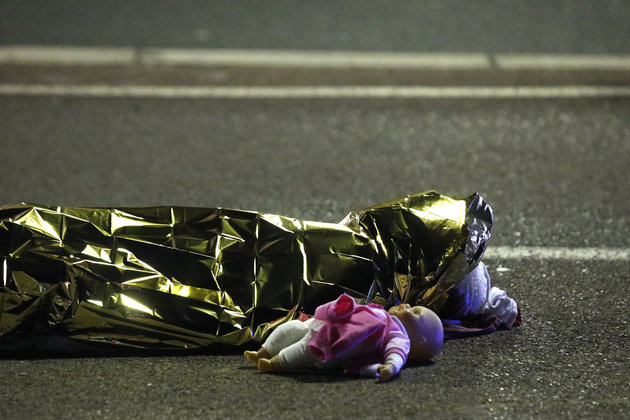 Killing children is fun, isn't it? It certainly is for Islamics full of hate for us.
Third World Terrorist Who Murdered 84 In France Is Not Islamic - Allegedly [ 16 July 2016 ]
But is he was a vicious criminal imported by the Treason of Socialists, the Useful Idiots like Hollande, the tools of the Puppet Masters.
Islam IS The Reason For The Nice Attack Says Pakistani [ 16 July 2016 ]
That is stating the obvious. He doesn't say why vicious foreigners are being imported though. The Main Stream Media keep very quiet about that. So do the perpetrators, the Zionist crazies who hate us, who are destroying us by Ethnic Fouling In England, by Ethnic Fouling In France, by Ethnic Fouling throughout Western Civilization but not in Palestine, in the Stolen Land that thieves call Israel.
Nice Massacre Was Caused Multiculturalism & Political Correctness Says Polish Interior Minister [ 16 July 2016 ]
QUOTE
Poland's right wing interior minister Mariusz Blaszczak has blamed last night's terror attack in Nice on 'multiculturalism' after it emerged the killer was a French Tunisian living in the city............
Unlike other international politicians, Blaszczak blamed France and the European Union's Foreign affairs commissioner Federica Mogherini for last night's deadly attack.......
He said: 'We must reject political correctness and call things by their true names. Rather than shedding tears like Mogherini and ... organising marches that solve nothing, authorities should ensure the safety of citizens.'
He also praised his party, Law and Justice, for standing firm against accepting migrants.
UNQUOTE
The 'Daily Mail' alleges that a 'Right Wing' politician claims that 'Multiculturalism' is evil but then the 'Mail' is a Propaganda machine, just like The Guardian, but corrupting honest minds.
Donald Trump Uses Nice Massacre As A Propaganda Tool - Alleges Daily Mail [ 16 July 2016 ]
The 'Daily Mail' has claimed that 'Donald Trump' has alleged that a 'Third World' massacre is 'horrific'. The 'Mail' is a de facto 'Marxist operation', a 'Propaganda machine' marketing Left Wing memes to its chosen audience while pretending to sympathise with us. It is more corrupt than The Guardian, which does not pretend it is not Marxist.
Terrorism Policy Is Learn To Live With It [ 18 July 2016 ]
QUOTE
Liberal hypocrisy aside, events in Nice revealed more novel aspects about our current situation. Although it would have been no real comfort to hear the French authorities parrot familiar nonsense about 'doing something' and 'tackling radicalism,' I was left speechless by the immediate official response to the latest catastrophe associated with the invasion of France. Following the crushing of innocent French citizens on their own soil, Prime Minister Manuel Valls' statement that France is going to have to "learn to live with terrorism" was breath-taking in its coldness and its cynicism. More than that, it marked a break with decades of pretense that the liberal worldview is based on optimism, 'progress,' and the achievement of a wonderful and peaceful new society. In a France that has been in a consistent state of emergency for 19 months, the message, in that brief moment, was crystal clear: There is nothing 'progressive' about modern liberalism. Your society is regressing into violence and chaos. Your nation is slipping into the abyss. And you will have to learn to live with it.
UNQUOTE
The Left Wing establishment claimed that Multiculturalism was good for us. They lied deliberately, systematically with malice aforethought. Now the mask is coming off. The Trojan Horses are full enough to cause real problems. Ethnic Fouling followed by Genocide is policy & Treason. The Puppet Masters use corrupt politicians as weapons against us but they don't let Third World parasites get away with it in Israel.
2016 Nice Attack ex Wiki
On the evening of 14 July 2016, 84 people were killed and 303 injured when a 19-tonne cargo truck was deliberately driven into crowds celebrating Bastille Day on the Promenade des Anglais in Nice, France.[6][7][8] The driver was Mohamed Lahouaiej-Bouhlel, a Tunisian resident of France.[9][10] The attack ended following an exchange of gunfire during which police surrounded the truck and shot the driver, killing him.
Agence France-Presse described the incident as the third major Islamist terrorist attack in France since the beginning of 2015, following the Île-de-France attacks in January of that year and the Paris attacks in November 2015.[11] On 16 July, Amaq News Agency, associated with the slamic State of Iraq and the Levant (ISIL), said Lahouaiej-Bouhlel "executed the operation in response to calls to target citizens of coalition nations which fight the Islamic State".[12] SIL later included the claim on its daily al-Bayan radio news bulletin.[13][14] On 21 July, the French prosecutor said that Lahouaiej-Bouhlel planned the attack for months and had help from five accomplices.[15][16][17] The five suspects were held in custody on charges of terror offences.[18]
In response to the attack, the government announced three days of national mourning. It extended the state of emergency, declared following the Paris attacks, for another three months. Thousands of extra police and soldiers were deployed while the government called on citizens to join the reserve forces.