Harriet Harman
Harman, the deputy leader of the Labour Party has been getting gobby recently [ August 2009 ] because she wants to be Her Majesty's Prime Minister. Brown is a spendthrift rogue on the skids and she sees her chance. Pandering to Feminists, paedophiles and MPs with light fingers will get her some votes and cost her more, lots more. She is attacking the British National Party after it got two members into the European Parliament. This will win votes among communists and people who have fallen for BBC propaganda. Nick Griffin is giving us some of her track record. It is not pretty. But given the realities of political hatred, what he says about the woman is libel proof on the grounds that it is all true and provable at that.
Substantive Comment:-

Feminist

Public school girl - ideal in the people's party?

Only made it into a third rate university.

Misuses statistics - stupid or corrupt.

Big in the NCCL = National Council for Civil Liberties

Supported paedophiles' right to abuse children

Wants racial discrimination but only against anyone English.

Exception - she discriminates for women and against blacks.

Hates the BNP.

Wears armour when she goes near her constituents.

Barrister and QC so should know better.

Was the Solicitor General so she does know better.

Wants to be the next prime minister and God help England if it comes to pass.

Or try this one:-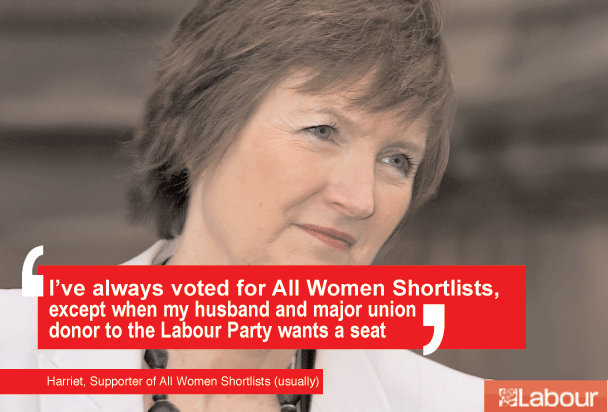 Anger as Harriet Harman escapes driving ban for mobile phone crash [ 8 Jan 2010 ]
QUOTE
"8 Jan 2010 ... Tory MP Nigel Evans said: "I suspect there will be a few fuming motorists looking at that judgment and wondering how she got off so lightly. ... Far stiffer fines and summery driving bans should be introduced and enforced for this dangerous practice. ..... John C, Leatherhead, UK, 08/01/2010 11:51 ..."
www.thisislondon.co.uk/standard/article-23792456-harriet-harman-in-court-over-phone-charges.do
UNQUOTE
Corruption or just the appearance?

Harman Got Her Job From Communists [ 20 November 2009 ]
QUOTE
On the whole, however, the communist infiltration of the T&G is hardly a joking matter: its influence in the Labour party was substantial. The decision to give Gordon Brown his first and only safe seat, Dunfermline East, was made by two T&G officials: Hugh Wyper, the regional boss and a Communist Party member, and Alec Kitson. This is not exceptional. Neil Kinnock, Tony Blair, Margaret Beckett, Harriet Harman, John Reid — to name just a few — were all T&G people who made their Labour party careers thanks to the union's backing. And at that time, of course, T&G political backing was within the gift of Alec Kitson. Chernyaev only saw part of the story however. Other documents, still secret, show Labour's Soviet relationships ran still deeper.
UNQUOTE
What a surprise that it. Well, perhaps not. Pandering to anyone and everyone who will give him leg up is the mark of a real politician, an unprincipled politician, a greedy politicians, a man desperate for power to harass us about.

Harman To Be Prosecuted For Ramming A Stationary Car [ 21 November 2009 ]
QUOTE
Harriet Harman is to face prosecution after allegedly crashing her car while on a mobile phone. Witnesses claimed that although Labour's deputy leader stopped briefly after hitting the parked vehicle, she drove off without leaving details of her insurance company or her car's registration. But she will only be prosecuted for the driving offences, rather than leaving the scene, which could have left her with a possible six-month jail term..........

The married mother of three already has three points on her licence for speeding in 2007. The incident is a major embarrassment for the Labour Party, which brought in the law to punish motorists holding a phone while behind the wheel in 2003. Harman, a former Solicitor General, was banned from driving for seven days and fined £400 after admitting speeding at 99mph on the M4 near Swindon, Wiltshire, in January 2003...... She was also fined £60 and given three penalty points for going 50mph in a temporary 40mph speed limit on the A14 near Ipswich in April 2007. When she failed to pay the £60 fixed penalty notice within a 28-day limit, she narrowly avoided being hauled back before court.
UNQUOTE
She makes law. She should live by it. She is an arrogant cow and should be in prison. She is another communist apparatchik and colluded with various traitors when she was trying to get power over us - see Harriet Harman
PS Notice that she is being allowed to get away with making off. An honest man would not.
THE WOMAN WHO WANTS
TO CLOSE US DOWN
Harriet Harman is the current deputy-leader of the Labour Party and minister for "equalities". In the late 1970s Harman was the "legal officer" for the "National Council for Civil Liberties" which was heavily involved with two pro-paedophiles groups, the Paedophiles Information Exchange and Paedophiles Action for Liberation. She only disassociated from these groups in 1982 when she ran for Parliament in Peckham. Harman is a rampant "feminist" who harbours highly negative views of fathers and marriage and despises the role of the family in society. Harman used to sport t-shirts stating: "This is what a feminist looks like!" Despite standing for "equality", Harman was the person who made it legal to discriminate on grounds of race - as long as it was ethnics who benefited. It was Harman who proposed excepting MP's from the Freedom of Information Act so that their expenses could remain secret. Harman is the chief driving force behind the attempt to criminalise the BNP's British-only membership policy.

Harriet Harman - Would You? - The Spectator Puts The Boot In
QUOTE
Labour's deputy leader is tipped to succeed Gordon Brown.... So — Harriet Harman, then. Would you? I mean after a few beers obviously, not while you were sober. The alcohol is sloshing around inside your brain, you've enjoyed a post-pub doner kebab together and maybe some grilled halloumi (a woman's right to cheese) and she suggests, as you stand inside the frowsy minicab office: fancy going south, big boy? (I don't know for sure that she'd use the term 'big boy'; this is largely hypothetical stuff, you understand.)
UNQUOTE
Mr Liddle is being unkind. With a sack over her head after a few pints could you tell the difference? She can't look as foul as Cherie Blair Competition Winners

Or can she?


Harman Wants Liberty - For Paedophiles [ 14 December 2013 ]
Errors & omissions, broken links, cock ups, over-emphasis, malice [ real or imaginary ] or whatever; if you find any I am open to comment.


Email me at Mike Emery. All financial contributions are cheerfully accepted. If you want to keep it private, use my PGP Key. Home Page
Updated on 22/01/2015 10:43