Older Obits A to K
VCs - Victoria Cross winners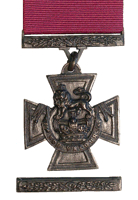 Dickie Annand VC
Men like that don't turn up every day. He slowed the Wehrmacht down on the way to Dunkirk. When the ammo runs out, use grenades instead and that means close quarters every time.
Adrian Carton De Wiart VC 1880 - 1963
QUOTE
Lieutenant General Sir Adrian Carton de Wiart (1880-1963) (VC, KBE, CB, CMG, DSO) was a British officer of Belgian and Irish descent. He was one of the most remarkable figures in British military history, renowned for bravery, his striking character and the sheer adventure of his long life. He was the model for Brigadier Ben Ritchie-Hook in the Sword of Honour trilogy of Evelyn Waugh.
UNQUOTE
Being sneered at by Evelyn Waugh means that you have really arrived. The Boer War, the Somme, British Somaliland, Yugoslavia, China - all of these meant he got about and met everyone.

Mark Donaldson VC
QUOTE
Mark Gregor Strang Donaldson VC (born 2 April 1979) is the first recipient of the Victoria Cross for Australia, awarded for gallantry, the highest award in the Australian honours system. He is the first Australian recipient of a Victoria Cross since Keith Payne in 1969. Trooper Donaldson was a member of the Australian Special Air Service regiment when he exposed himself to enemy fire to protect injured troops and then rescued an interpreter under heavy enemy fire in Oruzgan province during Operation Slipper, the Australian contribution to the War in Afghanistan. He was awarded the medal by Governor-General of Australia, Quentin Bryce, in a ceremony in Canberra on 16 January 2009.
UNQUOTE
Happily this one is not an obit. He lived to tell the tale. He also showed that colonials give medals to men while the British Army saves most of them for officers.

Captain Gaje Ghale VC
QUOTE
On May 24 a large force of Japanese were attempting to make an advance into the Chin Hills, where the 2nd/5th Gurkhas were part of the defence force. The Japanese occupied a vital tactical point, the key to the position, on Basha East Hill, the approach to which was a long bare knife-edge ridge which in some places was as little as 15ft wide............ On May 25, Gaje Ghale was given the task of taking the position........ A Japanese grenade wounded Gaje Ghale in the chest, arm and leg. Though covered with blood, he ignored his injuries and continued to throw grenades with his other arm. After prolonged hand-to-hand fighting the position was captured. The Gurkhas succeeded in holding it in the face of heavy fire from the Japanese trying to retake it..... Gaje Ghale later received the VC from Field Marshal Lord Wavell in Delhi at a parade beneath the walls of the Red Fort in the presence of a crowd of 5,000. He was later decorated with the Star of Nepal in Kathmandu by the Prime Minister of Nepal.
UNQUOTE
Do we deserve the loyalty of such men while Parliament is full of swine?

Guy Gibson VC DSO DFC
QUOTE
In 1943 he was selected to command the new 617 Squadron asked to destroy dams in the Ruhr area. To accomplish this they were provided with the bouncing bomb designed and developed by Barnes Wallis. The bombs had to be dropped from 60 feet (18 m) from a predefined distance to skip across the water into the dam face and then roll down it to explode at predefined depth. To stand any chance of success Operation Chastise had to be flown at night.
UNQUOTE
He did over 170 operations. Most men did one or two tours of 30. Guy copped it a few months later. Comment from the men at What was it REALLY like?

Bhanubhakta Gurung, VC
QUOTE
Havildar [ Sergeant ] Bhanubhakta Gurung, who has died aged 86, was awarded a VC when serving as a rifleman in the 3rd Battalion of the 2nd Gurkha Rifles in Burma on March 5 1945.........

Bhanubhakta's citation..... recorded that: "On approaching the objective, one of the sections of the company was forced to the ground by a very heavy light-machine-gun, grenade and mortar fire, and owing to the severity of this fire was unable to move in any direction.

"While thus pinned down, the section also came under accurate fire from a sniper in a tree some 75 yards to the south. As this sniper was inflicting casualties on the section, Rifleman Bhanbhagta Gurung stood up and, while fully exposed to heavy fire, calmly killed the enemy sniper with his rifle, thus saving his section from suffering further casualties."......

Without waiting for any orders, Bhanubhakta dashed forward alone and attacked the first enemy foxhole. Throwing two grenades, which killed the two occupants of the trench, he immediately rushed on to the next enemy foxhole and killed the two Japanese in it with his bayonet.

All this time he was under continuous light-machine-gun fire from a bunker on the north tip of the objective, and two further fox-holes were still bringing fire to bear upon the section. Bhanubhakta dashed forward and cleared these trenches with bayonet and grenades.

He then turned his attention to the machine-gun bunker, and realising, as the citation put it, that it "would hold up not only his own platoon which was not behind him, but also another platoon which was advancing from the west", he pushed forward a fifth time to knock out the position.

"He ran forward and leapt on to the roof of the bunker from where, his hand grenades being finished, he flung two No 72 smoke grenades into the bunker's slit." Two Japanese rushed out of the bunker, partially blinded by the smoke and with their clothes aflame with phosphorous; Bhanubhakta promptly killed them both with his kukri.

One Japanese soldier remained inside, holding up 4 Platoon's advance with the machine gun. Bhanubhakta crawled in and, prevented by the cramped space from using his bayonet or kukri, beat the gunner's brains out with a rock.
UNQUOTE
Do we deserve men like that? With a grossly corrupt government like ours? No, but still they come. Still they serve.

Sergeant Major Hollis VC
He was the only man to get a VC on D Day. He was with the Green Howards when he attacked a bus shelter which looked like a pill box. He got two more the same day. The Regiment bought the shelter.
Private Illingsworth DCM
Stephen Illingworth of 2 PARA was recommended for a VC after Goose Green but didn't get one because the Parachute Regiment had got all of the others.
Albert Jacka VC
QUOTE
... Three weeks after his arrival at Courtney's Post, Gallipoli, the former labourer in Victoria's Forestry Department had amazed his commanders by jumping into an enemy-held trench and single-handedly battling a group of armed Turks, killing two with his bayonet and shooting five. It was a stunning act of bravery for which he was awarded Australia's first Victoria Cross of World War I.
UNQUOTE
The establishment didn't like him for not being a yes man. See - First Digger to win VC in World War I

Lieutenant Colonel Herbert Jones VC
QUOTE
Colonel attended Eton College. He joined the British Army on leaving school and was commissioned into the Devonshire and Dorset Regiment. By 1982 had reached the rank of lieutenant-colonel, During the Falklands War he was in command of 2nd Battalion, The Parachute Regiment when the deed described below took place for which he was awarded the VC.

Command of 2 Para passed to Major Chris Keeble, and Jones was buried at Ajax Bay on May 30, near where he fell. After the war his body was exhumed and buried at the Blue Beach War Cemetery in Port San Carlos on October 25
UNQUOTE
He commanded in the first land battle of the Falklands War so the result mattered. 2 PARA won against much greater forces albeit Chris Keeble took 2 PARA onto victory rather than Colonel Jones. Comment on the action from a man who was there at Was Colonel 'H' a mad fool? Part 1

Ganju Lama VC
QUOTE
Ganju Lama, who has died aged 75, was awarded a Victoria Cross in Burma for his action on June 12 1944 when B Company, 7th Gurkha Rifles, were checking a Japanese attack, supported by tanks, in the Imphal and Kohima area...........

Rifleman Ganju Lama, the No 1 of the PIAT (Projector Infantry Anti-Tank) - which launched a 3 lb grenade on his initiative - crawled forward through thick mud, bleeding profusely, and engaged the tanks single-handedly. In spite of a broken left wrist and two other wounds, one in his right hand and one in his leg, caused by withering cross-fire concentrated on him, he succeeded in bringing his gun into action within 30 yards of the enemy tanks. He knocked out first one, and then another, the third tank being destroyed by an anti-tank gun. Despite his serious wounds, he then moved forwards and engaged with grenades the tank crews who were now attempting to escape. Not until he had killed or wounded them all, thus enabling his company to push forward, did he allow himself to be taken back to the Regimental Aid Post to have his wounds dressed.
UNQUOTE
He was from Bhutan rather than Nepal but a brave man among the brave none the less.
Charles Merritt VC 1908 - 2000
Was a lieutenant colonel of the Canadian Army at Dieppe when he personally led four parties over a bridge swept by machine gun, mortar and artillery fire.
William Mariner VC
Was a thief, who thumped an officer and took the war to the enemy. Sneaking over to German trenches at night can be dangerous. Throwing in hand grenades upsets them. He had the gumption to wear his VC in court so he got off with being told off.
Captain Gerard Norton, VC
The VC does not come up with the rations. It is something special and so is the man. There were Rhodesians who came back in 1939 without stopping to think why. After the Foreign Office's dealing there will not be so many.

Tul Bahadur Pun VC
QUOTE
Pun was 21 years old, and a Rifleman in the 3rd Battalion, 6th Gurkha Rifles, in the Indian Army during World War II when the following deed took place for which he was awarded the VC.

On 23 June 1944 at Mogaung, Burma (now Myanmar), during an attack on the railway bridge, a section of one of the platoons was wiped out with the exception of Rifleman Tul Bahadur Pun, his section commander and one other. The section commander immediately led a charge on the enemy position but was at once badly wounded, as was the third man. Rifleman Pun, with a Bren gun continued the charge alone in the face of shattering fire and reaching the position, killed three of the occupants and put five more to flight, capturing two light machine-guns and much ammunition. He then gave accurate supporting fire, enabling the rest of his platoon to reach their objective.
UNQUOTE
A brave man. He was used by Joanna Lumley, a fool or rogue to whip up support for allowing Gurkhas to settle in England after a mere four years service. Some did and were badly cheated.
Sefanaia Sukanaivalu VC
Was a corporal from Fiji who let himself be shot by the Japanese because his men would never fall back while he was alive. He really did give his life.

Alfred John Shout VC
He copped it at Gallipoli. His VC was the last to be privately owned. It went for AU$1 million [ £400,000 ]. See Victoria Cross medal sells for record $1million

Honorary Captain Umbrae Singh, VC
Havildar [ sergeant ] Singh's gun was attacked by two companies of Japanese. He held them and was found after with seven wounds and ten dead. It was a well earned VC. Gurkhas are not the only ones to serve well. Ask how many men in Her Majesty's Government have ever heard a shot fired in anger, far less done anything for England.

Issy Smith VC
QUOTE
Smith was born in Alexandria, the son of French citizens Moses and Eva Shmeilowitz, who were of Polish origin. His father was employed by the French Consulate-General as a clerk. Aged 11, Smith embarked as a stowaway aboard a vessel proceeding to London. Undaunted by this unfamiliar environment, Smith attended Berner Street School, Commercial Street, and worked as a deliverer in the East End, then an impoverished ghetto where Yiddish was the predominant spoken language. Persecution and extreme deprivation had compelled millions of Eastern European Jews to migrate to Western Europe, the Americas, and elsewhere. By the time of Issy Smith's arrival, Jewish immigration to Britain had peaked and was further curtailed by the enactment of the Aliens Act in 1905.
UNQUOTE
Why were they being hassled? Depend on a Jew not to tell the truth about why he is hated. To be fair, this one served well.
Sergeant 'Smoky' Smith, VC
VCs didn't get handed out willy nilly during the war. His was well earned. Knocking out a Wehrmacht tank at thirty feet then sorting a section of grenadiers took something special. Following up needed it too. They put him in prison so that he would be sober when he met the King. Colonial other ranks seem to get more medals than Brits. Keeping the men informed makes a difference.
Sir Tasker Watkins, VC
QUOTE
Sir Tasker Watkins, the former Deputy Chief Justice of England and Lord Justice of Appeal who died yesterday aged 88, was awarded a Victoria Cross for his conduct during the North-West Europe Campaign of 1944-45. On August 16 1944, when commanding a company of 1/5th Company of the Welch Regiment, Watkins attacked a German machine-gun post single-handed while leading a bayonet charge.
He was promoted from lieutenant to major on the field.... Interviewed subsequently, all he would say about the action was that the men with him were Welsh, and "I am proud of that".
UNQUOTE
There were not many like him. Did we deserve him? Certainly our politicians do not.
Charles Wilcox, GC
Rescued a man from a burning building. VCs usually go to officers in the British Army rather than the men but his uncle Lance-Corporal Alfred Wilcox, won the Victoria Cross while serving with 2/4th Oxfordshire and Buckinghamshire Light Infantry near Laventie, France, in September 1918. It must be in the blood.

Lieutenant-Colonel Eric Wilson, VC
QUOTE
Eric Wilson won the first Victoria Cross to be awarded in the campaigns in Africa during the Second World War. His story is one of persistent yet seemingly nonchalant gallantry as, by his lights, he was simply doing what he was trained to do. He stuck to his precious guns to the bitter end and so certain was the brigade staff that he had been killed in the enemy's final attack he was awarded a posthumous VC. But he survived to fight in two more campaigns......

On release from the Italian PoW camp he volunteered to join the Long Range Desert Group operating round the flanks of Rommel's Afrika Korps in the Western Desert. His knowledge of desert conditions proved a useful asset but, at the end of the North African campaign, he went to Burma as second-in-command of a battalion of The King's African Rifles.....

He joined the staff of the London Goodenough Trust for Overseas Students, where his fluency in Kiswahili, Gikuria and Chinyakusa stood him in good stead. He was the honorary secretary of the Anglo-Somali Society, 1972-77, and again from 1988 to 1990.
UNQUOTE
Determination helps when things get nasty. The climate was no help to anyone. He must have liked the heat.
Men of World War I
This is subdivided because there so many.
Brits of World War II
There were 98 Brits and men of the Commonwealth too.
Men of World War II
There are 38; Gurkhas and Sikhs are well represented.
Michael Ashcroft tells us about his collection of VCs
Lord Ashcroft's father was there on D Day. He was fascinated by what makes men do these things. He explains. For more go to The Victoria Cross Society or The History of the Victoria Cross
The rest are a very mixed bag in alphabetical order.
'Dimebag' Darrell Abbott
Dead of gun shot wounds at 38, living proof that he wasn't just a loud mouthed slob and that you can't fool all of the people all of the time. The irate punter got three others too before a copper got him; kind of democratic. For a cheerful view of gun shy patter merchants see:- Heavy metal blasts death-wish lyrics beyond metaphysics
Lord Ackner
Served with the guns for a while. As a judge he was keen on long sentences for the vicious.

Major-General Sir John Acland
QUOTE
Commander and military adviser to the British Governor during the transfer of power in Rhodesia.
UNQUOTE
Not something to be proud of. The BBC don't bother to tell us about the murder and corruption that resulted.
Major 'Cuth' Adami
A jovial soul and good for the men. His father landed on D Day with a case of champagne which indicates why. He recruited a lot of boxers for his outfit. Running a restaurant on Ibiza and helping make it fashionable was fun too.

Robert Adler
QUOTE
Physicist who helped to perfect the television remote control, heralding the era of the channel-hopping couch potato.
UNQUOTE
His device was wireless. It used ultrasonics. Later it was infra red. He got 180 patents. Each one is a sign of real talent.
Air Chief Marshal Sir John Aiken
Commissioned into the Cameronians, joined the RAF, flew Spits out of Biggin Hill. His big moment was being in charge in Cyprus when the Turks invaded. He handled it well.
Lady Aitken
She stood by her man even when the going got rough. He was her son, Jonathan Aitken who went away for perjury but she did other things too, often good things.

The King of Afghanistan
Benign monarch who was deposed after four decades of languid rule, but returned as 'Father of the Nation'.

Dave Allen
Another comedian gone. He cheered us up when so many spoil our days.
Michael Alexander
Was one of the Prominenten in Schloss Colditz. He was captured with Layforce. A man who did things before and after the war.
Lieutenant-Colonel Freddie Allen DSO
Fighting through the Ardennes and Reichswald in snow storms was not a lot of fun. Mud matters to soldiers. Being the military governor of Brunswick was much nicer.
Princess Alice, Duchess of Gloucester
She was unknown to the public at large and rather better person than one might have thought. She knew a time when being a duke really meant something.
Lieutenant Evan Allan
Served in the First World War and then in the Second. He saw the Kaiser's fleet and invaded German New Guinea. Life in Royal Australian Navy was much the same as in Nelson's time and very lively.
Major Tom Allen MC
Fought in Italy with the 5th Gurkha Rifles when it was close to and personal. His father fought in the Zulu War.
Major 'Gentleman Jim' Almonds MM
He was in the SAS before it became the SAS. He was the last man left from L Detachment and had interesting times. He escaped from Italy and later jumped into France after D Day. His son followed him into the regiment. See also MAJOR JIM ALMONDS
Jack Anderson
Was an investigative reporter and according to J Edgar Hoover "lower than the regurgitated filth of vultures". So he must have been on the right lines. He was seen off by a wife and nine.
Yasser Arafat
His corruption was about par for the course in that area. His success for his own people was much like his dress sense. I have seen better looking scarecrows. A champion for their cause is another, more sympathetic view of the man.

Don Arden
Explosive manager of rock bands who revelled in his reputation for violent intimidation as the Al Capone of Pop.
Lieutenant-Colonel Mike Argue MC
Was in the Falklands so he died young. It was on Mount Longdon that he earned his MC commanding a company of 3 PARA. The weather was the sort that we knew in Brecon with land mines thrown in. Sergeant McKay got his VC during that battle. He was with 22 SAS and spoke Arabic.
Arman
This tells you more about the modern art racket than you need to know. Kitsch is German for pretentious rubbish. His output was literally rubbish. The interesting bit is the fools who bought it. He was a Grand Officier des Arts et des Lettres which tells us about the rogues that run France.
St John Armitage
He did not go in for fantasizing about the desert and the sheiks of Araby. He was there and part of it.

Lucie Aubrac
QUOTE
LUCIE Aubrac, one of France's greatest wartime resistance heroes, whose audacious rescue of her husband from a Nazi prison was made into a successful film, has died, her family said. She was 94. After tricking the Germans into allowing a visit to her husband, she used the opportunity for the daring rescue plan and although pregnant with her second child, helped ambush a truck in which Raymond was being taken from prison. In the ensuing shootout, he and other resistance prisoners were freed and the couple escaped before making their way to London in 1944.
UNQUOTE
The female of the species is more dangerous. Her story was questioned by historians but not left wing politicians. Her old man was a Jew and rather too keen on hounding collaborators after the war - Lucie Aubrac
Aussie WWI ranks reduced to three
They are thin on the ground and getting thinner. Would they go if they were invited this day? They might ask why and they wouldn't get an honest answer any more than the men in Iraq did.
Vice-Admiral Sir Peter Austin
Flew biplanes through to jets and had fun too.
Richard Avedon
Big time photographer.
Air Vice-Marshal 'Bill' Bailey
Flying on the Berlin Airlift mattered. Flying in the Radfan meant don't crash. The back of Aden is bad country with lots of hostile natives. Canberras and Victors meant variety.

Hank Baker
Corporals don't usually get obits but then corporals don't usually write the reports. There was nobody else to write them in Lhasa though. Being one of the few Brits meant that he had to play polo. It is easy to trip the pony using the stick. Other things were learnt the hard way. Having six sets of cutlery is a problem if you are only used to mess tins.

Wing Commander 'Tubby' Baker DSO, DFC
QUOTE
..... he attacked Berlin, Bremen, Munich, Magdeburg and Kiel. He flew on all four of the raids in what became known as the Battle of Hamburg and, returning from one of them, his gunners shot down an enemy night fighter. A few days later he was awarded a DFC.

On August 17 1943 Baker attacked the secret weapons testing establishment at Peenemünde. Rather than make a steady bombing run, his tactic was to approach the target in a curve, and weave before levelling out for the last 15 seconds to release his bombs.
UNQUOTE
A tour was thirty operations and dangerous. Over three tours is even more so.

Wing Commander Tom Baker DFM
Was the lead navigator on a low level day light attack on power stations near Cologne. This was an audacious attack but the audacity came from the arm chair warriors. The men were not very happy. The bombers had to fly 250 miles over enemy territory in broad daylight and without a fighter escort. They hit the target but losing twelve aircraft out of 54 was not sustainable.

Wing Commander 'Tubby' Baker DSO, DFC
QUOTE
..... he attacked Berlin, Bremen, Munich, Magdeburg and Kiel. He flew on all four of the raids in what became known as the Battle of Hamburg and, returning from one of them, his gunners shot down an enemy night fighter. A few days later he was awarded a DFC.

On August 17 1943 Baker attacked the secret weapons testing establishment at Peenemünde. Rather than make a steady bombing run, his tactic was to approach the target in a curve, and weave before levelling out for the last 15 seconds to release his bombs.
UNQUOTE
A tour was thirty operations and dangerous. Over three tours is even more so.

Captain George Baldwin
Flew Seafires, the naval version of the Spitfire early on. He had a lively war as a result.
Lieutenant Jack Balfrey-Bowker
As a midshipman of twenty years he attacked Taranto Harbour. They got two battleships and a cruiser, changing the balance of power in the Med thereby.
Brig Denis Ballantine
He saw an Italy without wine, women and beaches. It was lively though.
Tony Banks
A foul mouthed loony leftie but effective. It is a pity there aren't a few like him on the right.
Ronnie Barker
He was rather funny. Now he has proved something - we are all getting older.


Staff Sergeant Geoff Barkway DFM
Staff Sergeant Geoff Barkway, who has died aged 84, played an important part in the capture of Pegasus bridge, landing his glider only 100 yards from the bridge over the Caen Canal in Normandy on D Day. They were reinforced by 7 PARA who held it until Lord Lovat arrived with his piper. Staff Barkway was wounded soon after landing and lost an arm as a result.

Wing Commander Nicky Barr DFC MC
Wing Commander Barr was one of Australia's most successful wartime fighter pilots, credited with destroying at least 12 enemy aircraft. Shot down thrice and badly wounded and was taken prisoner by the Italians. He then escaped three times, and remained behind enemy lines for more than a year conducting clandestine operations with the partisans and special forces.His philosophy in combat was simple: "The Tomahawk and Kittyhawk were not considered by us to be top fighter aircraft. I decided early on that any deficiency either type had could be offset by unbridled aggression. I had done some boxing, and had beaten better opponents by simply going for them, and I decided to use this tactic in the air. It paid off."
There is a lesson here for today's pilots.
Syd Barrett
Founded Pink Floyd and survived it after a fashion. Sex, drugs and rock'n'roll sound pretty good. It was the drugs that sent him mad but he made it to 60.
Shamil Basayev
Chechens have bottle. This comedian had lots of bottle then he pushed his luck too far, too often. He pulled off some major operations. The man done good. Chechens were a major force in the crime industry and took the Moscow underworld by storm. A lot of blood was shed. He had a lot of money but said that it was given rather than stolen. Believe him if you want.
Captain 'Barehands' Bates DSC
He climbed the mast and reset the radar aerial in a Force 8 gale because it had been knocked off while they bombarding the Scharnhorst. They disabled her as a result and she was sunk a few hours later.
Blaster Bates
Flew bombers during the war then got into bomb disposal, stunt riding, rugby and public speaking but you wouldn't have taken your mother to see him. He was big on charity too.
Sir Geoffrey Bates, Bt MC
Served with the 8th King's Royal Irish Rifles in the Western Desert. His troop came under fire in a wadi while operating against the enemy's southern flank near Hemlimat, Egypt. He stayed to draw fire while the rest of his troop moved off. His father got a DSO and an MC.

Jean Baudrillard
QUOTE
Jean Baudrillard, who died on Tuesday aged 77, was a leading post-modernist thinker and social theorist best known for his concept of "hyperreality" - the theory that modern man can no longer tell what reality is because he has become lost in a world of "simulacra", images and signs created and presented as "real" by the mass media; many regarded him as the most important French philosopher of the last 50 years.
UNQUOTE
He had an important point; one that has been grossly abused by the BBC, followers of Antonio Gramsci, the chief theoretician of the communist party and the Zionist Jews who control the media. Albeit with French philosophers it is difficult to know whether they are mad or bad. It tends to be both. The Wikipedia's write up is the kind of drivel that leaves you to wonder about the kind of twerp who believes them. Here is a good, that is readable analysis of another comedian of the same sort and just as foul. Jacques Derrida

Gillian Baverstock
Schoolmistress who was a staunch defender of the literary legacy of her mother Enid Blyton.
Raymond Baxter
Flew Spitfires then became a broadcaster with Tomorrow's World, one of the BBC's better things.
Lt-Col Sir John Baynes, Bt
A man of the Cameronians [ Scottish Rifles ], his service was post war but he wrote well about what makes a good army.
Brigadier Derrick Baynham GM
He was a signaller and went to France with SOE the easy way, by flying in a Lysander. Then it was the Guards Armoured Division from Normandy to the Baltic. After it was Palestine, Malaya, Cyprus, India and Burma. He even got back to Blighty.
Air Vice-Marshal Guy Bearne
Joined the RAF in 1929. He flew some bombers but never really did anything of note.
Allan Beckett
Was an engineer who designed part of Mulberry harbour which was put in place on D + X and used to land men and materiel. The American version failed. Ours was designed for the weather and worked. He was later involved with the lifting sector gates devised for the Thames Barrier.
Sir Piers Bengough
Was a cavalry officer and noted amateur rider before serving as the Queen's representative at Ascot racecourse for 15 years. He took over from the Marquess of Abergavenny in 1982. He decided who would, and who would not, be admitted to the Royal Enclosure. Bengough once refused entry to an actress, one Joan Collins because she was wearing someone else's badge. He was succeeded as Her Majesty's Representative by the present (12th) Duke of Devonshire.
Bill Bennett
Big in hang glider development and also big in bare foot water skiing. He bought it on take off in Arizona. Don't forget your pre-flight checks and your emergency drills.
Obie Benson
Was in The Four Tops and made it to 69. He can't have been too big on sex, drugs and rock and roll.
Ross Benson
Journo and gossip columnist but he also covered Afghanistan, El Salvador and others. Shot at in several countries which means that he was up at the sharp end.

Count Lennart Bernadotte
A leader in ecology and a man with splendid garden to prove it. He was also an effective breeder of babies.
Alex Behrendt
Was a German PoW who stayed on to marry and started the fishing in lakes industry. He didn't have to join the Wehrmacht to see the world. He already had. He wrote The Management of Angling Waters, the standard book.
Trevor Berbick
Was a Jamaican who finished off Muhammad Ali but was later crushed by a young Mike Tyson. He got five years for rape. He didn't get on with Don King, the infamous boxing promoter which has to be a point in his favour. Boxers are not what they were when the Fancy was in its prime. Jack Gully was the Champion of England then a Member of Parliament.
HRH Prince Bernhard of the Netherlands
A German prince who fell for a Dutch princess and left Germany in the Hitler time. He had a good war and did the right things. There were later hiccups, a mistress and a large brown envelope from Lockheeds. Being big in the WWF fails to excite my admiration.
Professor Hans Bethe
Was one of the most eminent theoretical physicists in America, and was at Los Alamos in the Manhattan Project. The Nobel Prize for Physics came later for his carbon cycle formula, which explains how the sun generates its energy. He did his best thinking at home in an easy chair and put it all together in the bath. It sounds like a good way to work.



Mark Birley
QUOTE
Founder of Annabel's, the nightclub synonymous with sophistication, exclusivity and daunting good taste.
UNQUOTE
Charm worked its magic, intelligence too.

Major Bob Bishop MC
He joined the Leicestershire Yeomanry as the horses left then made it to Alamein and fought up through Italy.

Count Gottfried von Bismarck
QUOTE
Count Gottfried von Bismarck, who was found dead on Monday aged 44, was a louche German aristocrat with a multi-faceted history as a pleasure-seeking heroin addict, hell-raising alcoholic, flamboyant waster and a reckless and extravagant host of homosexual orgies.......
UNQUOTE
He lived. He died. He had fun in between. He had talent too.
Sir Joh Bjelke-Petersen
Was the Premier of Queensland and a very sound man. He appointed Her Majesty the Queen of Queensland and made the moves that got Whitlam kicked out. The left hates him yet. The corruption investigation found lots but he only got done for perjury and beat the rap. Four of his ministers went down and the police commissioner got fourteen years. He proves that one man can make a difference, just like Blair but Joh was a better man.
Air Vice-Marshal Nigel Blair-Oliphant
He was in weapon development which sounds like fun, also a first class shot and swordsman.
Sir Frederic Bolton MC, MFH
Was with the Welsh Guards in Italy and in shipping after. He hunted too.
Alain Bombard
Adventure tends to sound like attempted suicide. Crossing the Atlantic in an 15' inflatable without any rations sounds down right silly. He did survive though.
Derek Bond
Commanded the same platoon as Harold Macmillan had in an earlier war. They were both with the 3rd Grenadiers.
As the president of Equity, he was determined to prevent the union being turned into a vehicle for the political ambitions of Vanessa and Corin Redgrave of the SWP [ Socialist Workers Party ] Mr Bond actually did know something about work and workers.
Professor Sir Hermann Bondi
Came to England from Austria and became a mathematician and cosmologist. He also ran his own septic tank for years. Versatility matters. So do brains. He was a Jew whence the brains.
PW Botha by The Telegraph
This obit is longer than the Beeb's. They both have the left wing peculiarity of refusing to tell us his name; he is PW.
PW Botha
The BBC manages to restrain its malice in writing about Mr Botha, the one time President of South Africa. They also suppress the truth systematically about the evil unleashed there by his fall.
Vice-Admiral Sir David Brown
Joined up just as the war finished. He convinced Her Majesty's Government that the Falklands could be saved.
Colonel Frankie Boshell DSO
He was an infantry man and the son of an infantry man. Fighting in Burma was close to determined enemy. His father got a DSO too.
Dane Boustead MC
He got an MC in Burma with the Chindits as the result of a brisk action which destroyed a Japanese company. The jungle was not a fun place to be. North Africa had a down side too. There he got his first MC in a close quarter action against the Wehrmacht.
Captain Rodney Bowden
Join the Navy and see the world meant something in the war years. Variety was the spice of life but not necessarily fun.
Iris 'Fluff' Bower
Made it to Normandy on D + 6 to start a hospital. Her boss was killed as he got there which got her into the swing of things. Belsen came later.
Alex Bowlby
Public school boy becomes private soldier and sees action in Italy. He didn't enjoy it but he wrote about it. The book sold well. He did his jumps with 21 SAS so he wasn't a softie.
Air Commodore 'Rex' Boxer
He joined No. 1 Squadron before the war and No. 1 Flying School later so he saw no action but taught a lot of men who did.
Maj-Gen 'Bala' Bredin MC, DSO
Born in Peshawar, near the Khyber Pass, Palestine with the Ulster Rifles, back to Dunkirk, with Wingate which was a dubious pleasure and Cyprus commanding 2 PARA. Interesting times. Afterwards it was Malaya and BRIXMIS - real front line stuff. Behind really. They were inside East Germany.

The Very Reverend Antony Bridge
QUOTE
Atheistic painter who became Dean of Guildford and one of the Church's most arresting preachers.
UNQUOTE
He served too with the Buffs. The atheism gave way to the Christianity.

Lieutenant-Commander John Bridge, GC
QUOTE
Bomb disposal officer in the Second World War who cleared Messina harbour of deadly enemy depth charges, making it safe for shipping.
UNQUOTE
He did the same at Nijmegen after the Arnhem cock up. He never lost a man either.
John Bridges
Was in the 6th Battalion, Grenadier Guards when he took over the intelligence role during the advance on a horseshoe feature in the Mareth Line during the night of March 16-17 1943. They found themselves in a mine field which sounds like an intelligence failure but he survived after further mishaps to become a radio producer and a drinking man with the BBC
Wing Commander 'Buster' Briggs DFC
He made it to England from Dunkirk with the Coldstreams and then back to Europe towing a glider to Pegasus Bridge on D Day and to Arnhem on Operation Market Garden. There were also runs for the SOE. Afterwards it was farming and sailing.
Maj-Gen Robin Brockbank MC
Was another genuine cavalry man who was attacked by anti-tank guns at 30 yards. Running them over was a good response. Retiring to Wiltshire was a big thing among army men including my neighbour.

David Bronstein
QUOTE
Chess grandmaster of tactical verve who narrowly failed to win the world title.
UNQUOTE
He was related to Trotsky, of Bolshevik fame too. The brain power was there.
Captain Ronald Brooke
He had a lively war and sank submarines. He proved something accidentally by going to Sarawak. The locals assumed that he was a descendant of Rajah Brooke and hoped that he was going to take over. They were seriously disappointed by his failure so to do.
John Brooke-Little
Was the former Clarenceux King of Arms and founder of the Heraldry Society. He didn't quite get to be Garter Principal of Arms which is the top of the game.

Anthony Brooks DSO, MC
QUOTE
Anthony Brooks, who has died aged 85, was one of the most successful of the resistance organisers sent into France by the Special Operations Executive (SOE) during the Second World War.

Barely 20 years old when he was first parachuted into enemy territory, he organised the "Pimento" circuit that grew to encompass a vast expanse of southern France with headquarters in Lyon and Toulouse. After the Second World War he joined the Secret Intelligence Service (SIS) and embarked on a career that carried him through many reaches of British Intelligence.
UNQUOTE
Being bilingual always meant being considered for Secret Squirrel. Being a major at 22 meant being very good at it.
Eric Brooks
He was a signaller with L Detachment. In other words the SAS before it became the SAS, then the Long Range Desert Group and finally Popski's Private Army. He convinced wireless sets to perform when they were primitive and unreliable. He did interesting things after the war too.
Major Philip Brookshaw MC
He made it to France on D + 6 and went on to capture a bridge over the Somme. He got a destroyer which was trying to escape from Antwerp. He finished the war near Lübeck on the Baltic coast. He did things after too.
Col Derek Brown MC
Men who serve matter too. He came across a camp with 150 CTs [ communist terrorists ] and stirred them up. This was in Malaya with the Seaforths.
Herbert Brown
Got a Nobel Prize in organic chemistry which means something, unlike their sillier offerings. He was the son of Ukrainian Jews and made it from poverty to success in America.
Major Bruce Shand MC, MFH
Was the father of the current Duchess of Cornwall which was rather thankless. He helped cover the withdrawal to Dunkirk after the Phoney War. Hunting came later.
Admiral Sir Lindsay Bryson
He was the first engineer appointed Controller of the Navy and responsible for developing and procuring weapon systems. He made the Type 23 frigate into something useful by giving it American Harpoons, a surface to surface missile. The gun was a bolt on extra but it proved its worth in the Falklands. He was an effective administrator too.
John Buchanan
Was in the Grenadiers, an outfit that has had its share of rogues. He was a teacher though; the sort that makes a difference.
Larry Buchanan
Maybe the world's worst film maker. He made B movies. He made a profit. The trick is to control costs and not embarrass easily. Play it for laughs too. Pushed the Janice Joplin was murdered theory.

Lothar-Guenther Buchheim, author of 'Das Boot,' dies at 89
German author and art collector Lothar-Guenther Buchheim, who was best known for his autobiographical novel "Das Boot," has died, his museum and the office of the governor of Bavaria said Friday. He was 89. Buchheim, who was born on 6 February 1918, in Weimar, near Buchenwald. He did one patrol in the U-96. It wasn't fun.
Lt-Col Denny Bult-Francis
Made it to Dieppe twice. The second time was better. They held it.
Edward Bunker
A career criminal who began at the age of three and went to prison at six. Beaten up by the filth at fifteen. Then on to become the youngest inmate of San Quentin. Folsom [ prison ], writing and critical acclaim came later. He said that Hollywood was far more crooked than decent underworld criminals. He should have known.
Group Captain 'Mac' Bunting
He got to play with an obscure branch of SOE in the Far East. These things can get you killed just as easily, even if the malaria does not do the job. The Berlin Airlift came later. A radio man at heart.

Air Commodore Wilf Burnett
QUOTE
Bomber pilot who supplied the Maquis and later led attacks in the Suez crisis.
UNQUOTE
Suez was the first time that the V Bombers got used for real.
Group Captain Dudley Burnside
He flew over the Northwest Frontier then did two tours of thirty operations each with Bomber Command and flew Sunderland's in Korea. Canberras came later.
Brigadier Ian 'Buzz' Burrows MC
Was a New Zealander who joined 22 SAS in its early days in Malaya. This meant operating against CTs [ Communist Terrorists ]. He got a respectable number of kills. He was an artist too.

John Butcher
QUOTE
Eurosceptic Tory MP and minister who promoted computers and deregulated mobile phones.
UNQUOTE
He was spot on with Europe.
Harry Byford
Flew Spitfires over Belgium and Algeria and got several probables. He preferred sheep and ran the Suffolk Agricultural Society for years.

Jack Byrne DCM
Joined the SAS before it was the SAS. L Detachment was the name and lively was the action. He did a very fair share of taking the war to the enemy. He got the DCM where an officer would have got a DSO; rather nasty little bit of class distinction.

Arthur Bywater, GC
They also serve who make the ammunition. This has its dangers. Getting people out when fuzes are exploding willy nilly takes something that most of us haven't got.
Peter Cadbury
Was a test pilot [ Meteors ], barrister and head of the Keith Prowse theatre ticket agency. That means versatile. A man should be versatile. His father [ DSC, DFC ] got two Zeppelins flying a Sopwith Camel which was not for the faint hearted. He then went on to found Westward Television and upset people but he did well.

Professor Robert Cahn
QUOTE
Refugee from Nazi Germany who led the way in establishing Materials Science as an academic discipline.
UNQUOTE
He was a Jew with brains and versatile, one who proved that a disrupted education is not a barrier if the quality is there.
Flight Lieutenant John Cairns DFC
Navigating a Mossie does not have the cachet as piloting but the pair got eight kills. Add in some locomotives and they have to count as effectives.
Jim Callaghan KG aka Stoker Jim
He was at the top of politics in unhappy times. Sound on nukes when Labour was going left. Married once; married right. He served in the Royal Navy like his father before him.

Brian Calvert
With Seafires and Gannets then helped bring the Concorde into service.
Lord Campbell of Croy MC
He was a major at twenty and got his MC on the Orne just after D Day. The second was on the Elbe and left him disabled. He has a serious interest in others like him when he went into politics and did some good.
Lieutenant-Colonel Duncan Campbell MC
Fighting Italians and natives in the Sudan with camels sounds primitive. It is. And it is real soldiering where the man counts. He counted.
Sgt Sid Capon
Was with 9 PARA on D Day and helped to silence enemy guns of the Merville Battery on D-Day. 65 men were left after out of the 600 that jumped. The Ardennes came later.
Group Captain Frank Carey
A lad from Brixton who made it through the hawse pipe and got a very respectable number of kills.
HRH Prince Carol of Romania
Proved that our own Royal Family is not the only one that can make a mess of things. His finances were worse.
Squadron Leader 'Chips' Carpenter DFC
He spent six months defending Malta. Before that came Norway and the Battle of Britain. Landing with no instruments and 300 holes in the aircraft was a real test of skill.

Lucien Carr
A sincere slob who mixed with Kerouac, Ginsburg, Burroughs and the like. His finest contribution to the Beat Generation was the murder of Kammerer, a queer scout master.
Squadron Leader Michael Casano MC
RAF officer who fought in Iraq and Syria before joining Glubb Pasha and his Arab Legion. He made it to El Alamein too.
Sir Jack Cater
Founded Hong Kong's Independent Commission Against Corruption, which took radical steps to combat graft in the Crown Colony's police force in the 1970s. The assumption was that it was Chinese lower ranks on the take was wrong. Englishmen were at it too. He got a grip. The police were so pleased that the CID attacked his office but failed to murder him.
We need a man like him to sort the den of iniquity which is English politics this day.
Zhang Chunqiao
One of Mao Tse Tung's inner circle who came unstuck after the Great Helmsman went belly up. His policy was more of the same and the butcher's bill be damned. He was no great loss. He was sentenced to death and given time to recant. He had the bottle not to and got off with life.
Lees Chadwick
Guardsman Chadwick was unusual in the Scots Guards and indeed the British Army. He got a medal without having a commission. But he did have a bayonet and used it very effectively in Italy. Rifles need ammo. Knives do not.
Professor Owen Chamberlain
Proved that the antiproton existed. Paul Dirac thought it up in 1928. He was on the Manhattan project, at the first atomic bomb test and lost a $5 bet that it would not go off. He was at Hiroshima after and demonstrated against nuclear weapons. Tom, a friend had a one way ticket to Japan so he thought the bomb was great news.
David Chandler
A teacher at Sandhurst who wrote what was perhaps the best book on Napoleon. Congratulations came from de Gaulle even though it was never translated into French. Good teaching makes a good start for young officers as well as children.

Paul Channon - Lord Kelvedon
QUOTE
The Lord Kelvedon, who died on Saturday aged 71, was, as Paul Channon, the final Guinness. Channon's gilded world was a closed book to the masses until, in 1986, his 22-year-old elder daughter Olivia was found dead from drink and drugs in a room at Christ Church after a party to celebrate completing her Oxford finals. Channon was devastated, the wound being the deeper as Olivia died in his old college.
UNQUOTE
He knew everyone who was anyone. It is surprising that Evelyn Waugh didn't write him up. Then it all went badly wrong.
Dame Eugenia Charles
Was the PM of Dominica who incited Ronnie Reagan to invade Grenada. The natives would have preferred having the British Army but otherwise were happy about it. This was the beginning of the end for communist infiltration of the Caribbean. We never were told what the enemy forces were.
PS, they were mainly Cuban and building an airfield for Russian movements. See Operation Urgent Fury
Wing Cdr Johnny Checketts DSO, DFC
Flew Spitfire Mark IXs as the commander of 485 (NZ) Squadron and got four enemy fighters over France. Not bad for a fortnight's work. Then three more FW 190s before he got shot down near Cambrai. Then it was back through Paris, Brittany and Devon before he saw Biggin Hill again. He got two V1s later on. 400 sorties is a lot.
Elizabeth Choy
QUOTE
Teacher and volunteer nurse who aided prisoners in Changi during the Japanese occupation of Singapore.
UNQUOTE
That took courage in dealing with a very vicious enemy.
Major Bill Close MC
He was a tank man who had eleven tanks shot up with him in them. He had luck too, lots of it.
Sir Michael Cobham
Sir Michael Cobham was the chairman and life president of Cobham plc who were big in flight refuelling. Without it our bombers would not have made it to the Falklands when it mattered. He was sound on Europe too - that is against it.

Great Terror historian Robert Conquest
Doctor Conquest is not dead yet but a lot of communist subversives wish that he were. He told the world that communism was evil and that they were rogues. Now we KNOW that he was right.
Major Sir Rupert Clarke, Bt
His people were from Somerset and went to Australia when it was pioneering for real. They made money and he took to living well like a duck to orange sauce. The Ashes were made on their land after a match with the English touring side. It was Eton and Magdalen College then the Irish Guards, ADC to Earl Alexander and back to the sharp end. Big on racing and breeding. When you have that much land it is easier.
Lt-Cdr Victor Clark DSC
He was at the fall of Singapore, which did major damage to the prestige of the white man but he took the war to the enemy which is how a difference can be made. Sadly it was not enough. He was at St. Nazaire and Narvik before. He sailed round the world after and was ship wrecked for nine months. He luck was not of the best.

Dame Marie Clay
QUOTE
Educationist whose Reading Recovery scheme had a striking success in improving literacy among schoolchildren.
UNQUOTE
Good teachers make the world a better place. Catch them young is the way.
Johnnie Cochran aka Johnnie Cockroach
Some people are admired less than others. Lawyers that get rich clients off ugly charges by playing the race card are examples. This was not written by a fan.
QUOTE
Though he will be best remembered for the O.J. Simpson trial and his famous glove theory, "If it doesn't fit, you must acquit," the real key to Johnnie Cochran's defence strategy might be better summed up as if the jury's retarded, I can't wait to get started. For the genius of the Cochran approach was to simply make certain that the preponderance of evidence against his client would be measured not by reasonable doubt, but by a jury of reasonable stupidity.
UNQUOTE
Jim Cohen
Leading radio astronomer who studied the formation of stars and campaigned to keep the night sky dark. This is real science and it matters.
Jonathan Cohen
QUOTE
Philosopher whose arguments about evidence and logic took in legal theory, medicine and the history of science.
UNQUOTE
He was a Jew with brains who made it to Bletchley, learnt Japanese and was a lieutenant with Naval intelligence. His stuff on logic may have been important and influential but he did things for the Campaign to Protect Rural England so he can't have been all bad.
Pierre Clostermann DFC and others
He got at least 18 kills mainly fighters with the Free French. He flew out of Biggin Hill. Praising Argentinean pilots during the Falklands war caused a degree of coolness. He spoke against invading Kuwait the first time. He did other things and did them well.
Flight Lieutenant Dickie Colbourne
Flew Walruses for air sea rescue during the war. Afterwards his Mosquito pranged on take off so he got his navigator out although the aircraft was on fire and the ammo was live. When he went out he became a postman rather than a teacher; a good decision.

Colonel J. H. Coldwell-Horsfall, DSO, MC and Bar
QUOTE
Officer of almost legendary status who won MCs in France and Tunisia and a DSO in Italy.
UNQUOTE
It was all action for him. He was there when it mattered and he was where it mattered at Dunkirk then North Africa and Italy.
Sir Hugh Collum
Was the chairman of the nuclear power plant at Sellafield, his family was in brewing. He was a director with a tobacco outfit. This makes a good triple for anyone not into ethical investing.
Captain John Cook
He learned to fly in Rhodesia, then it was Meteors and Javelins with the RAF. Flying Concorde was the pay off.
Robin Cook
Was a politician in the New Labour set up. He was keen on morals in public then abandoned his wife for his mistress. It is fair to say that he did not seem to be as corrupt as most of them.
Lt-Col Uvedale 'Streak' Corbett MC
Was with the guns and learned to ride when hunting five days a week was compulsory. Things have changed.
Flight Lieutenant Charles Corder
He got his aircraft back to England with both engines on fire. Most of his sorties were less hair raising.
John Cordle MP
Taking a strong line on morals is not a good idea if you are not in the clear. Doing business in West Africa means that corruption is normal. Ditto for John Poulson of unlamented memory. Reggie Maudling had his difficulties with Poulson too. He [ JC ] owned Kingston Russell which is seriously nice.
Sir Frederick Corfield
Served with the guns and got captured at Dunkirk. As an MP he wanted murderers flogged before they were hanged but not publicly. Also sound on court martialling civil servants for incompetence. He was a moderate Tory.
Father Gerry Costello SJ
He was with the Marines and made it ashore on D Day and got through it without being hit; the only padre in four brigades so to do. Going back to the Jesuits after had to be a doddle.
Sir John Cowperthwaite
Sir John was the Financial Secretary of Hong Kong throughout the 1960s and hugely successful. His extreme laissez-faire economic policies created conditions for very rapid growth and prosperity.

His achievement in Hong Kong was hailed by Milton Friedman and other free-market economists as a shining example of the potency of laissez-faire when carried through to its logical conclusions in almost every aspect of government. The Right-wing American commentator PJ O'Rourke called Cowperthwaite "a master of simplicities".

A failure was allowing personal taxes to rise to 15 per cent but he was sound on government borrowing - there wasn't any. Ditto for tariffs and subsidies. He was the antithesis of self righteous, light fingered, spendthrift rogues like Her Majesty's Chancellor of the Exchequer.
Air Vice-Marshal Colin Coulthard
He gave up designing aircraft to fly fighters and that was his career during the war and after. He was lucky; they paid him to fly, not vice versa.
Maurice Cowling
Historian and an influential Fellow of Peterhouse. His view of politics was one that Machiavelli and Blair would have understood; playing to win is the name of the game. He was too much of an Old Tory for Beaverbrook. He served in the Queen's Royal Regiment. Unkind remarks were made about his sex life.
Vice-Admiral Sir John Cox
QUOTE
Officer who tackled smugglers and trained the fleet which went to the Falklands.
UNQUOTE
The Royal Navy can be fun.
Colin Craig
Was an English financier and on the Al Yamamah job of fond memory in Saudi Arabia. It was a seriously multi-megabuck contract and made lots of people very happy.
Dan Crawford
Invented pub theatre. An American in England on the building who took the King's Head when it was seriously decrepit and became the impresario. Some big names passed through his hands. A man of enterprise whose tailor was Oxfam.
Brigadier Paul Crook
D Day, Singapore, the Japanese surrender then he commanded 3 PARA when it jumped at Suez in 1956. A military success but a political failure. It made for an interesting life.
Maj-Gen George Crookenden
Commanded BRIXMIS which was our military mission in East Germany during the Cold War and became one of our few effective espionage operations. The Russians had SOXMIS, which was a nuisance but tolerated for the sake of BRIXMIS. Military shorthand takes on a life of its own. He was a PoW and commanded the Buffs. Not just anybody.
Scott Crossfield
He was a life long pilot and the first man to fly faster than Mach 2. He bought it flying a little, single-engine Cessna 210 which pranged in Georgia. There is a moral there.

Captain Kenneth Cummins
QUOTE
Officer who served in the First World War and survived one of the worst sinkings of the Second.
UNQUOTE
He was in the Merchant Navy but the times were interesting.

Wing Commander Peter Cundy
He sank one submarine in the Bay of Biscay. Others followed. This was highly useful.
Wing Commander 'Bunny' Currant DFC
He got thirteen kills which is decidedly respectable and included Messerschmitts. He stayed in after.
Lady Cuthbert
She was the head fire woman before the feminists perverted women and turned them into their own enemies and ours.
Elma Dangerfield
Was in MI9 [ escaping ] rather than MI5 [ security ] or MI6 [ intelligence ]. She was big in exposing Nazi concentration camps and the Russian gulags. Then there was the literature.
Lt-Col John Daniel MC
Gunnery on Yugoslavian islands meant moving the guns onto a beach at night and attacking at first light. It also meant working with Tito's partisans. After it was Italy.
Jack Daniels
He did the hard work in designing the Morris Minor and Mini. There were other interesting designs too. A classic English engineer, who learned by doing it. He could even work with Alex Issigonis.
Gwion Davies
Was a first class seaman with fluent Welsh and Danish. He was involved in protecting British sovereignty south of the Falklands and that means cold every time.

Brigadier Gris Davies-Scourfield MC
Was a platoon commander at the fall of Calais in 1940. He made it out of Colditz but was recaptured in Osnabrück
John Davis DSO
QUOTE
Wartime member of SOE who worked behind the lines in Malaya
UNQUOTE
He trained CTs - Communist terrorists to operate against the Japanese. After the war the Army had to sort out the CTs who had bright ideas of their own. It is like poor little Saddam Hussein, once America's best friend and they are going to hang him.
Sir William Deakin
With Churchill before the war and during it. With SOE in Yugoslavia. He made history then taught history.
Capt Colin Dear MC
Led an infantry attack in Italy, the kind with a creeping barrage to discourage the enemy. He got malaria too. It was a hazard there.
Bill Deedes MC
QUOTE
.... His nearest brush with death came right at the end of the war, on April 2 1945, when his company, attempting to cross the Twenthe Canal, near Hengelo, was caught in enemy crossfire. For his part in withdrawing his men from the bridge, Deedes was awarded the MC, though the melancholy of receiving this decoration when so many of his comrades had died did not escape him.
He was the only officer to serve in the King's Royal Rifle Corps from the start to the finish of the war.....
UNQUOTE
Bill got about. Being sneered at by Private Eye made people like him better.
W F Deedes - pre mortem
He was a company commander with 12 King's Royal Rifle Corp and went from Normandy on D + 10, through Arnhem to Bremen. Being shelled gave men an interest in digging in.
Being there - Part II
Breaking out of Normandy and on to Paris.
Being There- Part III
Bill Deedes made it to Arnhem - a bit late but that is the way it went. He saw one of the drops go in. The problem was linking up in the face of strong Wehrmacht opposition.
Being There- Part IV
The Germans fought harder as they fell back and knew that they had lost.
Major-General John Deedes MC
He was in the fore front at Anzio and wounded there. Getting the last rites means that it was not a scratch. His father got a DSO so it was in the family.
John DeLorean
Tax payers will remember him as the man that cheated us out of £78 million and they will be right but it didn't make any difference. Once the tax man had screwed it out of us it was going to be wasted on something. It just happened to be a car salesman. Her Majesty's Government have made bigger cock ups. One of the more recent achievements of the Inland Revenue was to sell their offices to an off shore tax fiddling outfit. Ask them about Mapley Steps and see whether they look shifty or not. John later got done for moving a large consignment of cocaine and beat the rap. Versatile man.
Sir Roy Denman
Is one of the men who got us into the European Common Market fully intending to sacrifice our independence to a pack of unelected rogues with light fingers and a post Marxist agenda. Fool or villain I know not but effective and dangerous either way.
Captain Alexander Dickson
Captain Dickson served in destroyers throughout the Second World War and was the 2 i/c of Keppel during the ill-fated PQ17 Russian convoy. This was a run from Iceland to Murmansk and guaranteed to be cold.

He joined Relentless off the coast of Africa when it got the Charlotte Schlieman, a U-boat supply ship. They complained about him using too many torpedoes at £2,000 each. He did things after the war too.

Sir Douglas Dodds-Parker
SOE officer who supervised Mediterranean operations. They also serve who only stand and wait. Resupply may not be glamorous but it matters.
Alvaro Domecq y Diez
Alvaro Domecq y Diez, was a bullfighter, horseman, pilot and scion of a distinguished sherry family. Look at the label next time you buy a bottle. You will know where the price is going. He flew on the right side in the Spanish civil war and fought his bulls on horseback. He was part of a long tradition; the sort that our politicians hate. Bullfighting on horseback, carried out by rejoneadores, is still largely the preserve of the landed class from Andalusia. Bullfighting on foot sprang from nobles' retainers drawing off the bull, a far braver but perhaps less elegant art. He retired from the bullring in 1950, a year after witnessing the goring and death of his close friend Manolete, the most famous bullfighter of his generation, at Linares. Only two of his nineteen children survived.
William Donaldson
Pimp, fornicator, drug addict and author but then he was a Winchester man. The pay off was that he had a sense of humour and wrote letters to various prominent people which made them look silly. He was published and made the top of the best seller list.
Inviting Maggie to make Mary Whitehouse our Home Secretary was a fair one. Abusing the Archbishop of Canterbury for failing to acknowledge a donation was good. Inviting Sir James Goldsmith to help eliminate "scroungers, perverts, Dutch pessary salesmen and Polly Toynbee" was excellent. Jim took the bait. Others did too. Then there were the actresses. His mother had sound views too. She sacked the chauffeur for voting Socialist.
Lord Donaldson of Lymington MR
Was with the Guards Armoured Division and emerged as a lieutenant colonel at 25. He became a barrister, judge and Master of the Rolls, the head of civil law in England. Good on cutting waffle which dragged cases out.
Denis Donaldson
IRA man, traitor and administrator. His background was solidly right for the modern IRA, if not the early one. Being caught with the wrong woman can be difficult. The Brits used him then the IRA caught up with him. Whoops.
He had had major dealings with ETA, Lebanese and NORAID. Terrorism is an international business.

The Marquess of Donegall
Genial Irish hunting peer who was a wartime PoW and a regular in the Lords.
Professor Sir Richard Doll
He proved a connection between smoking and lung cancer. Then he claimed that drinking was bad for you. Boring twerp but he made it to 92. Rather him than me.
Sub-Lieutenant Rod Dove DSO
He rode a human torpedo into Palermo harbour one cold and stormy night. Losing the limpet mines was a pity but the warhead was a 1000 pounder and did severe damage to the 8,500-ton Italian troopship Viminale.
Johnny Downes DFC
He originated the first children's programme on the BBC and it ran for 29 years. During the war he navigated a Mosquito and got three kills. So not all BBC wallahs are communist subversives, lefties or traitors.
Major George Drew
Made it to Colditz, made forgeries, made a distillery and made a product which made men's teeth fall out. He stayed in after so he had a go at the Mau Mau in Kenya.

Major Henry Druce DSO, Croix de Guerre
QUOTE
SAS officer who ambushed a German column while dressed in corduroy trousers and a silk top hat.
UNQUOTE
Being multilingual helps in these matters. So does having a free rein.
Peter Drucker [ 28 November 2005 ]
Was an Austrian economist who escaped from Germany to England who believed in good management and getting the best out of people. DT 28/11/V
Keith Duckworth
Designed engines for racing cars and did it very well. He founded Cosworths and produced Formula 1 engines in quantities big enough to let more men race at top level.
Neville Duke, the fighter ace sells medals to spare wife long wait for hip replacement
Another man who came back to a land fit for heroes and maybe wondered why he bothered. Neville Duke was a squadron leader and the RAF's top-scoring ace in the Mediterranean theatre.
Sir Kenneth Durham
Bomber pilot, physicist, nuclear physics, Unilever's research department, then it was into management and up to the top. It nice to see someone with brains beat the patter merchants and time servers who run industry. Versatile too. A man should be versatile. Married once, married right which is all too rare in this foul age.
Major-General the Rev Ian Durie
Generals do not often become padres but if you have seen too much it can make sense. He was a gunner so he was far enough back not to see the worst of it. He commanded the artillery in the Falklands and on Desert Storm and made a big difference.
Wim Duisenberg
Was the first boss of the European Central Bank and had a rough ride. The French wanted their man in the job so that they could screw the rest of us that much better. He was not good on public relations but was well thought of by other senior bankers. Dim Wim was a rather unkind name for him.

Squadron Leader Neville Duke DFC
Got at least 27 kills then became a test pilot when going supersonic was new and often fatal.

Commander John Eaden DSC
QUOTE
Commander John Eaden, who has died aged 97, was the first submariner to make contact with the enemy in 1939; later in the Second World War, while in command of a destroyer, he sank a U-boat; and by the end of the war he had won three DSCs.
UNQUOTE
He had a lively war and a dangerous one.

Rafael Eitan
QUOTE
Israeli Chief of Staff and cabinet minister noted for his uncompromising hostility towards the Arabs.
UNQUOTE.
He was involved in the Shatila Massacre but went clear unlike Sharon who got a slap on the wrist for form sake. Competent and vicious sounds about right. Another one for Hell. He will get to meet Adolf, Joe, Lenin, Mao and Pol Pot.
Major Ian English MC
He got three MCs which is decidedly unusual. One was at El Alamein with the Durham Light Infantry. Italy and Normandy were later.
Graf Jakob Eltz
Was the head of a prominent family and a good one too. He managed to stay out of the Wehrmacht until 1944 when they were falling back. He helped in the reconstruction of Croatia.
The Marquess of Ely
He was a headmaster in Canada but liked going to the Lords when he was in England. The whole thing is becoming a little absurd these days albeit the House of Lords had a value that the Commons did not. They weren't just place men controlled by an evil prime minister.
Sir Peter Emery
No relation, was a leftie and backed Heath. Thatcher saw through him. A mixed record. Came back in 1944 and joined the RAFVR but saw no action. On the Scottish committee he turned up in a rented kilt so he had a sense of humour and got kicked out for his pains. The House thought that he was light fingered. Where would he have learnt that?

Paul Erdman
QUOTE
Financier whose career as a best-selling novelist began in a 17th-century Swiss prison cell.
UNQUOTE
Got to go prison and meet interesting people - with luck - then learn. Brains help too.
Harry Errington GC
A fireman who saved two men and got a GC. There are not so many firemen who would push their luck these days after they have been worked over by the current management reforms.

Commander Angus Erskine
Explored the Antarctic and other cold places. He liked skiing too.

The Earl of Essex
The tenth Earl was a grocer in Lancashire and a sergeant in the RAF. Previous earls had more distinguished track records. He took his seat in the Lords but never spoke. The next one lives in California.



Air Vice-Marshal Geoffrey Eveleigh
He flew biplanes before the war and Nimrods after but his main contribution was in signals and navigation. He helped to improve the RAF's bombing aiming so that it was merely dreadful rather than even worse.

Gnassingbe Eyadema
Pronounce it how you want, if you want. Read this one for a clear illustration of French political corruption and cynicism next time they complain about American foreign policy. It tells you all that you need to know about why Africa is the Hell hole that it is since we left. Like Idi Amin, he made a good soldier albeit with le Legion Étrangère.

Theo Fabergé
QUOTE
Grandson of the Russian Imperial Jeweller who discovered his ancestry only in middle age and produced his own objets d'art.
UNQUOTE
The artistic gene ran true.

King Fahd
Was in charge when a desert kingdom became seriously rich. Modernising a country is not easy. Many wanted their snouts in the trough. Some got their snouts and trotters in. Osama was keen on being a nuisance even though he did well out of oil. He was one of all too many. Lord Byron said that critics are born ready made. Lord Byron was right.
Major General Frantisek Fajtl DFC
QUOTE
Czech fighter pilot who fought in the Battle of Britain and during the Soviet advance on Slovakia.
UNQUOTE
Good fighter pilots are a rare breed. Flying with the Czechs, French, RAF and Czechs as occasion demanded meant that he got about. Being on the run from the Germans was interesting. Being a prisoner of the Russians having fought on their side was annoying. But when the Berlin Wall came down in 1989 all was forgiven.
Oriana Fallaci
Italian journalist who covered the Vietnam War and later berated the West for having appeased Islam. She would not approve of the current Pontiff and his pandering to mediaeval thugs.

Jerry Falwell - Zionist Front Man [ 21 May 2007 ]
QUOTE
On a Learjet to Hell
As Jerry Falwell heads down to meet his boss [ this would be Satan - Editor ], don't forget that he is largely responsible for much of the mess in the Middle East caused by the Zionist infiltration of American politics... Falwell was the pioneer in tying American Christian Evangelism to the extreme Israeli right... it allowed Falwell to turbocharge the fundraising for his 'Moral Majority', leading eventually to the ability of the Christian Right to both influence American politics in an ultra-Zionist direction and provide (illegal) funds to help the extreme right be elected in Israel. The most unlikely match in the world is largely the fault of Falwell, and is doing massive harm to the world.
UNQUOTE
The Very(?) Reverend Falwell is not universally admired but he was effective. So was Adolf.
PS Jerry got the Jabotinsky Medal, awarded for outstanding services to Israel. Falwell is the only non-Jew ever to receive the medal. They don't come any more Fascist than Vladimir Jabotinsky. which why he is a national hero in Israel.
Major Roy Farran DSO, MC, Croix de Guerre
Was the son of an Irishman who was big in the SAS early on. He first saw action at Sidi Barrani. He was in Crete when it was all happening. Escaping was not easy. Their caique encountered severe storms but they made it to Egypt. He was appointed ADC to General Jock Campbell, VC until he killed him in a car accident. 2 SAS came later. Raiding in Italy was lively. So was raiding in France.
He did many other things. Quality makes a world of difference.
Gen Sir Anthony Farrar-Hockley DSO aka Farrar the Para
He went to Korea in 1950 as adjutant of the 1st Battalion Gloucestershire Regiment. They were attacked when guarding a crossing of the Imjin River. It was close quarter work.
He was with 6 PARA in Athens in 1944 fighting the communists in the opening phase of the Third World War. EOKA, Aden, Suez, Borneo and Belfast came later. Being headmaster at Sandhurst meant having brains too. He was there on Remembrance Day too for the last time. The Independent's offering is quite good.
Sir Robin Fearn
QUOTE
Diplomat who excelled during the Falklands crisis and later became ambassador in Madrid.
UNQUOTE
You might wonder why the Argies decided to chance their arm and invade the Falklands if the Foreign Office was so very capable. They were trying to get rid of them but you wouldn't think so from this little obit.
Freddy Fender
Made it to 69 so he beat the occupational hazards of sex, drugs and rock and roll. He served too with the Marines. Then there was prison [ marijuana ] and success. It came late but it came.
Joachim Fest
German historian and journalist who provided the definitive account of the Third Reich. [ I thought that was Bill Shirer - Editor ]. For some 20 years, he wrote for the Frankfurter Allgemeine Zeitung, a German heavy weight newspaper. Left wing quasi-intellectuals and communist subversives didn't like him so he had to have gotten something right. Profound similarities between Nazis, communists and Zionists failed to amuse the Trots.

Captain Charles Fetherston-Dilke
QUOTE
Officer who sent the Navy to rescue the islanders of Tristan da Cunha when its volcano erupted without warning in 1961.
18 Jun 2007
UNQUOTE
He did things, lots of them.

Sir Colin Figures
QUOTE
Head of MI6 whose skilful leadership made a significant contribution to winning the Falklands war.
UNQUOTE
He had to find out about the Argies's Exocets. Given that they were made in England it should not have been too difficult.
Sir Henry Fisher
Was a High Court judge who knocked on it the head and went into banking. Criminal law was too easy and too boring. Banking is where the ackers are.
Tim Fitzgeorge-Parker MC
Was one of the few left who were genuine cavalry men. This was why he was with the Royal Scots Greys and went into training before becoming a racing journalist. He had fun as well as adventure with His Majesty's armed forces.
Brigadier Bob Flood MC
He made it back from Dunkirk then went via Ireland and Iceland to Belgium, the Rhine Crossing, with 8 PARA to Wismar on the Baltic just before the Russians. Wiltshire and cricket came later.
Ambrogio Fogar
Sailing round the world alone made him the fiftieth to make it.
Squadron Leader Desmond Fopp
Was the last of the Australians who fought in the Battle of Britain. Those days as a boy spent shooting paid off.

Air Marshal Sir Geoffrey Ford
QUOTE
Radar and guided missile expert who became the RAF's Chief Engineer.
UNQUOTE
The men who make them work matter too. It just isn't so glamorous.

Gerald Ford
Was the 38th president of America who took over where Nixon left off and tried to calm things down. He did until he pardoned Tricky Dicky. Then
QUOTE
Hell had no fury like that of the Washington liberal establishment balked of vengeance.
UNQUOTE
Maj-Gen Michael Forrester DSO, MC
Crete, Italy, France, 2 PARA, Cyprus, Egypt and lots of action are the story.
Flight Lieutenant Jack Foster DFC
He got three Ju88s in one night near München Gladbach near the end. Did much of his courting in a ditch near a sewage farm while they were bird watching. He did well afterwards too.

Sir Michael Fox
QUOTE
St Clair [ a whore and one of his victims ] was ordered to pay back tax totalling £58,781. After Fox's judgment she declared the Law an ass and compared the Inland Revenue to a pimp living off immoral earnings. Meanwhile, she brandished a whip and allowed her long coat to swing open to reveal a black miniskirt.
UNQUOTE
Judges please one side of a case but not the other. She was spot on though.
Reg Freeson
QUOTE
Was a housing minister in the Labour governments of Wilson and Callaghan, and an indomitable campaigner for the state of Israel, for peace in the Middle East and against racial injustice; ....
UNQUOTE
This might strike you as a contradiction in terms given Israel's track record of shameless brutality and ethnic cleansing.
Betty Friedan
Was a Jew, Marxist [ see Betty Friedan ] and subversive who did enormous damage. Her influence in feminism caused family break ups and single parent families which led on to young men running wild and doing extensive damage. See THE PATHOLOGY OF THE FEMALE-HEADED FAMILY for an explanation.
QUOTE
Back in l963, when Ms. Friedan unleashed feminism upon us with her book The Feminine Mystique, she said that her ideas "may disturb the experts and women alike, for they imply social change." The change has gone on long enough to permit an evaluation. Are women happier? Are men? Are children better mannered, better socialized? Is there more premarital sexual activity? More venereal disease? More single motherhood? More shacking-up? More adultery? Is the family more stable? Is educational performance superior to what it was in the early l960s? (Remember that the original "new life plan for women" was a program of education.) Are there fewer school dropouts? Is the level of public debate more civilized, more mature? Are better young people choosing teaching as a career and providing youth with better instruction and better role models? Are the streets safer? Do the media reflect a growing refinement of taste and morality? Are more or fewer women living in poverty? In substance abuse?
UNQUOTE - see Amneus/garbage/g2.html
The Telegraph's offering [ Betty Friedan ] might lead people to believe that she meant well.
Monetarist guru Milton Friedman dies
He got a Nobel prize in 1976 and inspired the overturn of Keynesian economics in much of the west during the 1970s and 1980s. Maggie said: "He was an intellectual freedom fighter." The Grauniad's admiration is much more restrained. Their readers didn't like him either. See Poll - Was Friedman a force for good? He was a failure according to Richard Adams, a Grauniad wallah. The Australian gives the man his due.
Father Konrad Fuchs
QUOTE
Roman Catholic priest whose experiences at the front during the Great War haunted him all his life.
UNQUOTE
He was an infantry man on the same side as Adolf but lasted longer.
Wing Commander 'Moose' Fumerton DFC
He was a Canadian fighter pilot who fought in the Battle of Britain then flew a night fighter over Malta. He got nine kills there and final score of fourteen. He was shot down once though. He was in mining after.

Air Vice-Marshal Jack Furner DFC
QUOTE
Jack Furner, flew wartime operations with Bomber Command and took part in secret electronic counter-measure sorties on D-Day; in peacetime he made a major contribution to the development of the RAF's nuclear capability during the Cold War.
UNQUOTE
He made it to Hamburg and Peenemünde. Cuba was later and much more dangerous than we were told at the time.
Air Vice-Marshal Peter Furniss DFC
He flew Hurricanes and Spitfires in Italy and the Balkans. Being head of the RAF's law department was later and less exciting.
Lieutenant-Colonel Andrew Gale
Looking confident and making the right noises when the natives are restless can make all the difference. It did and as a result a Jumbo with 400 bodies on board got out of Freetown in Nigeria.
Colonel Strome Galloway
He saw lots of action in Italy then went back to Canada and helped found the Monarchist League of Canada. He even ran for Parliament.
John Garang
Colonel Garang had a doctorate but only in economics. This is MUCH better that the average in the Sudan which could be why he got to be the Vice-President. He was also beloved of the American Christian right which tells us something about man's capacity for self-delusion.
Hank Garland
Met Elvis, Roy Orbison and fell foul of the occupational hazards of the music industry. Sex, drugs and rock and rock roll sound great. The death toll is great too. John Denver, Janice Joplin, John Lennon, Brian Jones, Jim Morrison and Mama Cass are just some of those who bought it ahead of time. They lived and they died. Hank came out as walking wounded.
Lt-Col David Garforth-Bles
Was a genuine cavalry man when it was horses not tracks. This was with the Guides Cavalry in India. They were pig sticking when the boar, his friend and his horse disappeared down a well. Getting them out was not easy but the villagers were delighted. They had the pig to eat. The Telegraph thought to translate nullah and other useful words. Burma came later.
Jozef Garlinski
QUOTE
Jozef Garlinski, who died on Tuesday aged 92, was a member of the Polish underground and an historian of ramrod integrity in defence of Poland's role in the Second World War.

While Communists maintained that they constituted the key opposition inside the concentration camps, and an American lobby bridled at suggestions that others shared the sufferings of the Jews, Garlinski wrote with the undeniable authority of one who had been held at Auschwitz and had spent two years in the sub-camp of Birkenau.
UNQUOTE
When it was all over various comedians came out of the wood work with their lies and fairy stories. He was not one.

Garry Garred GM
Defuzing eleven bombs in Lübeck was interesting and challenging but not fun. They were shoddy German bombs with shock sensitive fuzes. Six men had already been killed and there were another 1,000 tons of bombs waiting to go off. The squadron leader got a GC for being there. That is English democracy in action.
Litzi Gedye
She worked for the SOE in Turkey. Friendly with Philby and Weidenfeld.



Vice-Admiral Sir Ian McGeoch DSO
QUOTE
Vice-Admiral Sir Ian McGeoch, who has died aged 93, was a wartime submarine ace and a serial escaper after being captured by the Germans in the Mediterranean in 1943.......... A day later - determined not to waste his one remaining torpedo - McGeoch took Splendid inshore, where he could see two merchant ships under the escort of two destroyers. Picking the larger and more modern of the destroyers, he scored a direct hit.
UNQUOTE
Join the Navy and see the world.

Pierre-Gilles de Gennes
QUOTE
Physicist who won the Nobel Prize for elucidating the physical chemistry of liquid crystals.
UNQUOTE
If you read this you probably have Professor de Gennes to thank. He made little or nothing out of it.
Wing Commander Walter Gibb DFC
QUOTE
Test pilot who twice broke the world altitude record after an eventful war flying night fighters.
UNQUOTE
He flew Mosquitoes and went on the Dam Busters' raids. Damaging seven locomotives and a Junker 88 helped the war effort too.

Wing Commander Bobby Gibbes DSO
He got ten kills, shot down twice, recommended for a VC and went on strike. There was a lot more excitement too. Some men are just so much better than the rest of us.
Field Marshal Sir Roland Gibbs
Eton, Sandhurst, North Africa, Italy, D+1, the Somme; these made for interesting times. After it was the 60th Rifles, 7 PARA, 3 PARA and then staff jobs. He finished up in Wiltshire hunting and shooting. Married once, married well. He got it right.
Capt Lewis Archibald Gibson, MM LRDG
Was with the LRDG in 1939, right at the beginning. Yugoslavia was later and exciting too. He had a sense of humour and an unconventional lifestyle that ended with a burial in a wicker coffin.
Vincent Gigante
Was big in the Mafia and tried to get away with it by pretending to be a lunatic. It worked sometimes.

Air Vice-Marshal Bill Gill
Commander of Mosquito squadrons which defended London against the V-1 and tackled German night fighters. A sound chap.

Maj-Gen Ian Gill MC
QUOTE
Officer who won an MC holding a position against Panzer fire, and a Bar at the Battle of the Ardennes.
UNQUOTE
Being with the cavalry sounds better than being on foot but means being a target every time.
Gerry Glaister DFC
He did a tour in bombers and flew reconnaissance aircraft too. He was with the BBC and devised the Colditz series among others. Another BBC wallah who wasn't a Trot. He even married.
Commander Pat Godber
From Darjeeling to Marlborough, Scapa Flow, Nagasaki, Trincomalee and back to Blighty. Another man who joined the Navy and saw the world.
General Vasco Gonçalves
He became the left wing dictator of Portugal in 1974 by replacing a right wing dictator. Portugal might have been a launching pad for a Russian conquest in the West. He was big on nationalization but never attacked the sources of his own wealth; stupid but not that stupid.

Major Cyril Gordon MC and Bar
He had a very lively time in Burma. Cyprus, EOKA, Aden and the BAOR came later. He was fluent in French, Italian, German, Malay and Urdu. Brains and brawn make a good combination.
Lance-Corporal Jim Glibbery MM
Lance corporals don't often get medals but then they don't write the reports. They are there when fighting gets close up and personal though. He was and he performed very creditably. Getting casualties away with grenades going off can be exciting and even fatal. An officer would have been put in for a VC.

John Goodchild MC
Artillery officer whose courage under machine-gun and shellfire in Tunisia earned him a second MC.
Gen Andrew Goodpaster DSC
His main importance was in senior command. He was SACEUR after Czechoslovakia was invaded by the Russians and was the commandant of West Point. But he commanded a battalion of engineers in North Africa and led a party through a mine field under fire; whence the DSC. He helped Eisenhower prevent weakening of NATO at a time of danger through paranoia.
Sir David Gore-Booth
A Foreign Office man; the post was not quite hereditary. He was an Arabist and no fan of Zion - he knew their track record rather better than they liked. A man with a forceful style which this obit does not bring out.
Bridget Grant
She was much more fun than a boring prof. The family was offered the throne of Albania but preferred Pixton Park, in Somerset. She was written up by Evelyn Waugh.
Ted Grant
Was the founder of the Militant Tendency which came close to destroying the Labour Party and a Jew with Bolshevik connections. Entryism was his speciality and it still is a Jewish speciality. They have wormed their way into New Labour and the Tories. Grant was originally Isaac Blank and born in South Africa.
Lt-Col Douglas Gray
Born in Peking, father in the Boxer uprising, served with Skinner's Horse. If it sounds like something from the past, well it was and none the worse for it. And by the way, pig sticking was not for softies.
The Reverend Alan Green
He was at Arnhem, commanding a platoon of the Border Regiment. It was Sicily before that. A PoW camp and holy orders came later.

Major-General Gerald Green
QUOTE
Officer who was private secretary to the Emir of Bahrain and a close confidant of Princess Andrew of Greece.
UNQUOTE
He was with SOE too.
Elspeth Green MM
Staying at your post when the bombs are going off is not always fun but can be important. This was at Biggin Hill in 1940 the day after they lost 39 dead.
Professor Dick Grimsdale
He mattered. He made a difference. He built the world's first transistorized computer and invented the ROM [ read only memory ] without which you would not be reading this. He sent the first transatlantic email and was big in graphics. Because he was an English scientist he never got to be rich or famous but he kept on thinking and having useful ideas.

Boris Gudz
QUOTE
Boris Gudz, who died on December 27 aged 104, was the last surviving member of the Soviet secret service team that lured the British [ a Jew from Odessa in fact - Editor ] spy Sidney Reilly to his death; he also ran the Soviet spy Richard Sorge, gatherer of Moscow's best intelligence on Japanese and German intentions in the run-up to the Second World War. Gudz was a junior member of the group led by Artur Artusov which, in the 1920s, set up the Trust, a bogus anti-Bolshevik organisation used to entrap Sidney Reilly.
UNQUOTE
There is a lesson for conspirators here. Treachery is normal.
Colonel John Gunn MC
Served with the Seaforths in Burma. This meant mud, Japanese and swords at close quarters.
Gen Sir Roland Guy DSO
Commanded the Green Jackets in West Belfast when things were lively. Good intelligence and good contacts with the locals paid off. It was Mau Mau before which was training of a sort.
Richard Hadcock
Designed aircraft fuselages. He is part of why we can fly so easily. Bridges are easy. Just make them stronger. Weight matters in the air so it is not the same. The Americans took him on. Buying expertise makes a lot of sense. Sense that they have and we do not.

David Halberstam
QUOTE
..was a controversial American correspondent and author, always suspicious of the official version of events during the Vietnam war, and regularly at odds with US Army brass, the Saigon authorities, Washington officials and, on occasion, his employers..
UNQUOTE
We were being lied to then and now. Iraq is nastier than Vietnam but at least we know why; the Israelis want it and oil.
Henry Hall
Being an admin wallah in the Empire could be interesting. One of his jobs was ensure that the right man got hanged.

Virginia Hall - Finally honoured, the female spy the Gestapo dubbed 'the most dangerous of all'
QUOTE
Gestapo chief Hermann Göring put out Wanted posters offering a reward for the capture of the woman he viewed as the most dangerous spy in war-torn France. But Virginia Hall ignored the Nazi secret police, and, working for Winston Churchill's SOE, the Special Operations Executive, forerunner of MI6, she slipped back and forth between London and France, wreaking havoc behind enemy lines.

In 1942, she moved to Lyons, organising the underground network that helped downed aircrews and escaped PoWs back to England.
UNQUOTE
Being multi-lingual always means that you are going to be in line for Secret Squirrel things. She was. She did.

Jimmy Hamilton MP
A Labour MP who did work for a living is a rare beast. This one was honest too and the kind of example that Her Majesty's Government are not shamed by because they are too vile. He spoke against the murder of the unborn child.
Surgeon-Commander Sidney Hamilton
QUOTE
Doctor in Repulse who tended tirelessly to the injured among the 800 survivors of his ship's crew.
UNQUOTE
He was a follower of death. His ships were ones to keep clear of. He was keen on the National Health Service too; not a good sign.
Lord Hamilton of Dalzell
QUOTE
Peer who opposed the removal of hereditary members from the Lords and challenged EU integration........ Hamilton was one of four hereditary peers who petitioned the Queen against the Treaty of Nice on the grounds that it breached the terms of Magna Carta; his pamphlet Manifesto for Sovereign Britain was published by the Freedom Association in 2004.
UNQUOTE
There are people who disliked the Lords because of their feudal antecedents. They were a force for good which is why Blair destroyed them.
The Rt Rev David Hand
The simple life appeals to people who have never been anywhere near it. He lived it in Papua New Guinea. That means mountains, jungle, heat flies, diseases etc. Head taking and cannibalism were part of the fun too. I wouldn't but he was saving souls and even making the world a better place.
Squadron Leader Ray Hanna
Led the Red Arrows and made it the display team. He started in flying early enough to know piston engined aircraft and never looked back.
Lord Hanson
Entrepreneur, an unglamorous war but he made up for it later - he had the money to do it in style.
Robert Hanson
Flew with Memphis Belle, the first Flying Fortress to do 25 operations and get back to America. This was when lots were being shot down. The propaganda machine used the survivor to great effect. The propaganda machine lives on as the enemy of America and civilization but that is another issue.
Malcolm Hardee
A comedian and thief from Lewisham and a family of lightermen. You wouldn't have taken your mother to see him but he launched some biggish names in show biz. Played in The Tramshed. Drowned drunk. The Thames got even in the end.

Wing Commander Hardwicke Holderness DSO, DFC
A Rhodesian who served England well by attacking Kriegsmarine U boats. He was an MP in Rhodesia later and keen on integrating blacks into civilization.

General Sir Charles Harington DSO, MC
Join the Army and see the world meant something when he was in and it was a lively place too.
Heinrich Harrer
In 1938 he was on the first climb of the North Face of the Eiger, in the Swiss Alps. Later, after escaping from a British PoW camp in India, he traversed the length of Tibet, reached the "Forbidden City" of Lhasa and became tutor to the young Dalai Lama. He was there to do the first climb of Nanga Parbat, the world's ninth highest peak, for 1940.
Getting to Lhasa took 20 months of walking a 1,000 miles in mountains over 16,000 feet where winter temperatures dipped below minus 40C. The Dalai Lama was an excellent pupil. He stayed until the Chinese invaded in 1950.

General Sir Charles Harington DSO, MC
Join the Army and see the world meant something when he was in and it was a lively place too.
Lord Harris of High Cross
QUOTE
General director of the Institute of Economic Affairs, which provided Thatcherism with its intellectual foundation.
UNQUOTE
Free markets are good in principle until capitalists get too greedy and politicians get too corrupt. Then people get screwed. See what Blair's mob are doing to us and weep.
Herbert Harrison MC
He captured a hill in Holland - there is another hill near Arnhem - under demanding circumstances. He was a battalion CO with the Royal Scots Fusiliers as a major.
Domino Harvey
Model found dead in bath. It makes a good head line and tells you that if you have money sloshing around you still need a bit of moral fibre to cope. Or perhaps it is just takes a bit of brain. Having a drink is fine. Getting drunk every night sounds better. It ain't. Ditto for drugs and over doing it. Herewith endeth my lecture.
Lieutenant-Colonel 'Tich' Harvey MC
He became the OC of all four companies in the 5th Gurkha Rifles in Italy as the previous officers became hors de combat. When he got his MC one of his men got a posthumous VC. He went to get another fighting CTs in Malaya. Being in Abbottabad as India and Pakistan became separate was difficult. Then there was the confrontation in Borneo. Truly you join the Army and see the world.
Arthur Hailey
A writer who churned out pot boilers that were despised by the critics. The ignorant peasant masses bought 150 million copies. Then they became films. He was an Englishman who served in the RAF as a flying instructor; a better man therefore than those who knew better.
Rafik al-Hariri
Was the prime minister of the Lebanon then he was dead. A billionaire and philanthropist; he put 30,0000 lads through university, but he still had his enemies. Politics in the Near East is like that. It has a virtue. Politicians are less likely to screw the peasants for the fun of it. Now we can all play a game of Who Done It? Mossad is on the short list.
Charles Hargreaves
A New Zealander who joined the King's Royal Irish Hussars, Parachute Regiment and the SOE. Being in Colditz was much nicer than being tortured by the Gestapo. Yugoslavia with Mihailovic was interesting and lively.
Jenifer Hart
Was an arrogant academic who claimed that she was not a traitor although she had the opportunity and quite possibly the inclination.
Billy James Hargis
Was a Bible bashing preacher. Sound on communism and The Beatles. Then it turned out that he was a bit too intimate with the punters. Whoops. There have been a couple of American Bible bashers who came unstuck like that.
Harry Hargreaves
He did the pictures for Paddington Bear. He was even trusted with The Wind in the Willows. A good cricketer.

Squadron Leader Jimmy Harrison
QUOTE
Test pilot of exceptional skill who was forced to eject from a Vulcan bomber and who later tested the Nimrod.
UNQUOTE
Sir Stephen Hastings MC
Eton, Scots Guards, SAS, SOE, MI6 and Parliament. He got about. A hunting man and a real Tory unlike, well, let's just say most of them.
Commander Christopher Havergal
Being in the Med was always going to be lively. Capturing an Italian submarine was a good move. He had the nerve to surface and use his gun; a bad mistake. An irate Brit killed every man on the conning tower. Capturing the code books paid off big time too.

Sir Vice-Marshal Freddie Hazlewood
QUOTE
Wartime wireless operator who later became a pilot and commanded one of Britain's first V-bomber squadrons.
UNQUOTE
From Wellingtons to Valiants was interesting.

The Marquis of Headfort
Tried to get Wilson murdered for £5 but became an honorary policeman later. He was a drinking man too.

Sir Edward Heath
We have lost a leftie. I am not going to mourn. He was in Spain as an enthusiast for Stalin's lot. Serving for real with the guns was one good thing that he did. He commanded the Honourable Artillery Company He got us into Europe with the connivance of the FO, BBC and other communist subversives. One trick was to give away our fishing grounds some years after he left. They have been raped by foreigners. Choir boys in Salisbury will be safer now.
QUOTE
But he retained friends and influence around the world, not least in communist China, where his willingness to defend the regime, especially after the Tiananmen Square massacres of 1989. triggered controversy and criticism. He also flew to Baghdad to mediate with Saddam Hussein.
UNQUOTE http://politics.guardian.co.uk/conservatives/story/0,9061,1530788,00.html
Lie down with dogs and catch fleas. The Graun has a relaxed view of mass murderers of the left. Britain would be happy to scrap the pound, Heath told French Heath lied to the French and he lied to us - by omission if not directly. He is not the first prime minister to lie to us and he is certainly not the last.
Sir Mark Heath
He was the first Ambassador to the Holy See since Henry VIII broke with Rome in 1534 over his divorce from Catherine of Aragon. The Vatican posting was a nice little jolly where Maggie Thatcher could not bypass the ambassador and go direct to the head man.
Anderl Heckmair
He was the first man to climb the North Face of the Eiger which is far more of a technical challenge than Everest. This was in 1938 and he got to meet Adolf. He also guided Leni Riefenstahl who was very good. His service was in Russia on the Eastern Front and not much fun. As a boy in an orphanage he robbed the pigs from hunger. Good practice for later.
Chet Helms
He started Janice Joplin off and was big against the war in Vietnam.
Val Hempleman
QUOTE
Naval superintendent whose research into preventing 'the bends' saved the lives of countless deep sea divers.
UNQUOTE
Things can go badly wrong down there. His work mattered. He lived to tell the tale too and that was not just luck.

Alex Henshaw
QUOTE
Alex Henshaw was an outstanding test pilot whose name will forever be associated with the Second World War's most famous aircraft, the Spitfire; between 1940 and 1945 he test flew some 2,360 individual Spitfires and Seafires (the naval version of the aircraft), amounting to more than 10 per cent of the total built.

It could be dangerous work. Henshaw suffered a number of engine failures, and on one occasion, while flying over a built-up area, he crash-landed between two rows of houses.
UNQUOTE
A good man who deserved more recognition.
Hermione Lady Cobbold
Read how the other half lived. Doing the Himalayas with 200 servants was doing them in style. Churchill proposed to her. She got about.
The Dowager Lady Hesketh
QUOTE
Christian, Lady Hesketh, who died on April 7 aged 76, personified the principle that private privilege conferred an equal obligation to public duty; she was also a gifted writer and historian.
UNQUOTE
Sense of obligation is not an idea that Blair and his mob have ever heard of and wouldn't care for in the slightest if they did. The slimy bunch of rogues who constitute today's Tory party are little better. She was an example to the lot of them.
Robert Hesketh
Was big in coursing and helped run the Waterloo Cup which may well be finished due to malicious politicians. His people held to the True Faith when that was not an easy option.

Sir Thomas Hetherington
QUOTE
Director of Public Prosecutions who oversaw the establishment of the Crown Prosecution Service and prosecuted Jeremy Thorpe.
UNQUOTE
The CPS cramps the style of bent coppers somewhat. So does PACE. Police custody officers mean that the filth have to beat a man up before he gets to the cells - usually.
George Heywood DCM
Served with the Cheshire's and commanded a machine gun platoon under fire. He was commissioned a bit later.
Tim Heywood
Was the chief signals officer of the Long Range Desert Group (LRDG) during the Second World War. This was in the days of valve sets and getting the best out of them was not easy. His father steered him directly to Cairo and Ralph Bagnold who had spent a lot of time exploring deserts. He learned about these things at Eton where technology had a very low priority. Sailing came after the war.

Brigadier Tony Heywood MC
QUOTE
Guards officer who won an MC in Malaya hunting down Communist terrorists in the jungle.
UNQUOTE
Myles Hildyard MC
Escaped after the fall of Crete and made it Turkey and back to the regiment. El Alamein, the Mareth Line, Enfidaville, D Day and the taking of Hamburg followed. He spent the rest of his life running the family estate.
Brigadier 'Speedy' Hill MC DSO
We lose another of ours. He commanded 1 PARA at the jump on Souk El Arba in Tunisia so that aircraft could land and to convince the French to fight. This got lively. He was one of the last out of Dunkirk and one of the first in on D Day.
The Meuse Crossing and the Rhine Crossing came next. He got to Wismar on the Baltic just before the Russians.

Stanley Hiller Jnr
Was big in helicopter design and building. He designed and flew his first when he was twenty and his helicopters played a significant role in Korea in the early 1950s.

Hiller designed and constructed the XH-44 (Experimental Hiller) helicopter in 1944. It was the first co-axial helicopter in America, and the first anywhere to fly with all-metal blades. He was the company president, chief engineer and - still a teenager and without any prior helicopter experience - the chief test pilot.

He was very sound on American capitalist malpractices which undermine companies - asset-stripping; excessive payouts to executives not matched by performance; and the "feudal" system of corporate governance residing with a few individuals at the top. He believed in motivating all employees, enabling them to contribute and perform for the common good.
Abe Hirschfeld
Was a Jew and thief who tried to get his partner murdered. He got off with two years. He believed that being a blatant oaf could make him seem merely eccentric. He invented the car parking industry.

Air Chief Marshal Sir Lewis Hodges DFC DSO
QUOTE
Pilot who made numerous clandestine flights for SOE after a daring escape from occupied France.
UNQUOTE
He got Auriol and Mitterrand out. Both became presidents of France. Burma was later and interesting too.
Colonel Donald Hogg MC
Led a company attack by the KOSBs in North West Europe across open territory. He was the only officer left to get medals.
Flight Lieutenant Ray Holmes
He finished off a Dornier 17 which went down near Buckingham Palace. His Hurricane pranged too. Later he got to teach Russians to fly out of Murmansk. Reconnaissance was later and safer.
Bertie Hope-Davies
Welsh Guards, knew everyone, fun to know.
Hugh Howorth
An engineer who saw his car's crash not as a problem but an opportunity to rebuild it with a different front suspension. He specialized in air conditioning but innovation was the name of the game. His system reduced infections in operating theatres. He made documentary films too. A man should be versatile. He was.
Professor Liam Hudson
Another man in the psychology racket who chose to claim that IQ tests were irrelevant when the results inconvenient.
André Hue DSO
Joined the war aged 15, with the SOE in France. Got back to England, did his jumps and then it was France on D - 1 with the SAS. The author of this obit saw him off. Being bilingual made him useful in Brittany and Burgundy. Then there was Burma behind the lines and Palestine. He met his wife in Phnom Penh. Interesting times indeed.

Howard Hunt
Was a CIA man whose orchestration of the Watergate break-in proved an operation too far. It was just one of many. Overthrowing Jacobo Arbenz of Guatemala in 1954, the capture and killing of Ernesto "Che" Guevara in 1967 and the Bay of Pigs foul up were part of the fun.
Colonel Hugh Hunter Jones MC
He was at Tobruk and had the job of talking the guns onto their targets. This matters but is not always good for the nerves.

Saddam Hussein
Infamous dictator of Iraq who ruled by fear and bloodshed and prosecuted three disastrous wars.
01 Jan 2007

Lord Hussey
Was with the Grenadier Guards at Anzio and lost a leg there. The other injuries were not quite fatal. They meant that running the BBC was not quite the same. Having looked death in the face, communist subversives were not going to over awe him. He got a grip of weak management and sloppy financial control but using Birt, an accountant was not a good idea, Telegraph obit notwithstanding. He didn't have a happy time running The Times either.
Lady Hutchinson
QUOTE
Aristocrat who turned down two proposals from Cecil Beaton and won the admiration of Edward Heath.
UNQUOTE
This must be some kind of record although Mr Beaton did take it both ways.

Group Captain David Hutchinson Smith
Night fighter pilot who saw action in Asia and Africa before becoming Britain's second largest producer of blue cheese.
Professor Bill Inman
He was big on drug safety and getting reports on all problems found by real world users. This makes a lot of sense but English pharmaceutical mobs tried to sabotage him. The Americans were bright enough to realize that catching problems early reduced the legal problems.
James Irvine-Fortescue of Kingcausie
He saved Kincardineshire from the apparatchiks of the Scottish Office by low cunning and a flair for publicity. Being blind of one eye meant that he did not serve in the front line. Being fluent in French, German, Urdu and Hindi meant brains so it was the Pay Corps rather than Intelligence.
Frank Irving
Was the glider man par excellence and the first man to fly one across the Channel. He taught aeronautics at Imperial College.
Professor George Isaak
He used Doppler shifts to measure the speed of stars and find out what was happening inside the sun. His father fought the Russians and they had to escape the barbarian that came forth from the East with a flaming sword, which meant moving to Melbourne; not a bad idea. A nice man too it seems.
Kym Isolani
Italians can be better soldiers than cynics think. Kym was one such though only half Italian. Being bilingual opens up possibilities especially when the front is moving forward.
His Highness Sheikh Jaber III
Ran Kuwait until the Iraqis arrived mob handed. He was popular and not spendthrift. Establishing a fund with 10% of oil sales against the day when it runs out made a lot of sense and £33 billion. He had thirteen wives and only sacked one.
John Jackson
His service as a wireless operator and gunner were an interlude in a life of climbing. Ditto for teaching. He was on major expeditions to climb Everest and Kangchenjunga.
Commander Pat Jackson
Flying a Swordfish meant deck landings, 317 of them and nine days in a lifeboat in the North Atlantic. Cold only begins to describe it.
Ernie James
He was a fen man and mole trapper when he wasn't after plover or eels. It would have been the same life a century or two ago. It all depends on who is handling your public relations.

Earl Jellicoe DSO MC
Coldstreams, second in command of L Detachment under David Stirling, commanded the Special Boat Squadron, liberated Athens. He chaired the Joint Intelligence Committee. It didn't all happen because his father commanded the Imperial Fleet at Jutland. Politics, big business and public service came later. So did a sexual scandal but he did the decent thing.
Peter Jennings
Was a reporter then a television announcer in America. He was not universally admired.
Commander 'Yogi' Jenson
Was in the Ottawa when it went down in the Atlantic. This was his second time unlucky. He was nearly in the Hood which would have been his last time. Afterwards things looked up
Pope John Paul II
An enemy of communism who annoyed the lefties who push abortion and homosexuality.
Sir John Johnston
Was the Foreign Office front man in Rhodesia when Ian Smith became Prime Minister. A self righteous apparatchik who helped Marxists make the world a worse place. That is why he got to be a Governor of the BBC.
Lieutenant-Colonel Sir John Johnston MC
Was big on ceremonial and the Trooping of the Colours. He even got to hold the Queen's handbag. But he also did some real soldiering with the Grenadier Guards and tanks. He was somewhere else on D Day, unlike Willie Whitelaw but made it later. Running Princess Diana's wedding was a high light.
The Reverend Donald Peyton Jones DSC
A founder of the SBS who had a lively war then went the other way. He operated with Blondie Hasler of the Cockleshell Heroes.

Sir Edward Gordon Jones DSO, DFC
QUOTE
Air Marshal Jones, who has died aged 92, commanded a squadron of outdated Gladiator bi-planes in the ill-fated Greek campaign, in which he was credited with shooting down five Italian fighters; his dashing leadership earned him the DSO, DFC and the Greek DFC.
UNQUOTE
Grand Duchess Joséphine-Charlotte of Luxembourg
She had an interesting time one way and another.
Kristof Kallay
Being in England in those interesting years of the war was easier than being in Europe. Loyalties were less confused. It was prone to be all too exciting or fatal. A good man did well.
Major Peter Keeble
Blowing things up sounds like fun. Doing it under fire on the way back to Dunkirk sounds interesting.
Charles Keeling
Started the global warming racket by showing an increase in CO2 in the atmosphere since the 1950s. There is a seasonal swing due to vegetation absorbing it. The jury is still out on whether it matters and whether we can influence it. He was competent though.
Brian Keelan
Proved that brains matter. Winner on University Challenge. Big on derivatives [ Don't ask ], shooting, opera and finance. Dead at fifty but he did it well while he was here.
Lieutenant-Commander Dicky Kendall DSO
Went under the Tirpitz in Kaa Fjord in a miniature sub to put a two ton mine there. His captain got a VC. He got a DSO and the engineer got a mere CGM which tells you something about an unsatisfactory part of the RN, Army and RAF.
George Kennan
Was a diplomat which can mean being very important as distinct from sounding important. His Long Telegram told Washington that Russia under Joe was a vicious tyranny, just as bad as Germany under Adolf but that the Soviets had the seeds of their decay built in and germinating nicely. Not bad in 1946.
Rosemary Kennedy
Daughter of a major criminal and sister of an enthusiastic fornicator until he was shot in Dallas by a person or persons unknown.
Colonel John Kenyon MC
QUOTE
Mountain gunner who won an MC at Kohima and fought a campaign for Shropshire's name.
UNQUOTE
Gunnery meant pack howitzers. One gun meant eight mules which could get where wheels could not. Jungles are nasty, muddy places.
Princess Kikuko
Was the granddaughter of Tokugawa Yoshinobu, the last Shogun. She married Prince Takamatsu, brother of Emperor Hirohito. Publishing his diaries post mortem caused a furore. She was quite progressive and even visited England.
Jack St Clair Kilby
He invented the integrated circuit while he was working for Texas Instruments in 1958. You are reading this because of him. He spawned a multi-gigabuck industry and was amazed at what happened. His device was germanium with soldered wires. Bob Noyce at Fairchild used silicon and went on to found Intel. Jack worked on the electronics for the Minuteman, also getting 60 patents and a Nobel Prize - a real one, not a stupid one.
The sad part was that an Englishman, Geoffrey Dummer did similar work in 1952 at the Royal Radar Establishment, Malvern and could not find finance. Venture capital in England is still fraught as I found out.

Alexander King
QUOTE
Scientist and Club of Rome co-founder who earlier saved thousands of Allied troops' lives by organising the production of DDT.
UNQUOTE
Greenies meddled later, prevented DDT being used and cost millions of lives but did not bother to apologise, far less care. Rachel Carson was one such.
Coretta Scott King
Was married to one, Martin Luther King. His hobby was fornicating with whores then beating them up. His doctorate was obtained by fraud but he was useful to communist subversives as a front man to encourage blacks to hate. See http://www.martinlutherking.org/ for more and nastier details.
Lord King of Wartnaby MFH
Made it from petrol pump attendant to the boss of British Airway. He also made BA profitable. Private Eye enjoyed sneering at him for the peculiar tail markings that he inflicted their aircraft. But he did things for charity and was master of the Belvoir hunt so he was not all bad.
Lord Kingsale
Premier Baron of Ireland, plumber and bingo caller. Versatile? Yes. Successful? Not very. Ancestors who back the wrong horses, political or four legged do not help but in the end it is brain that makes the difference. His successor is a drain inspector in New Zealand. At least he found somewhere decent.
Ronald Knapp
Served with the RN and had a lively time in the Med. He played rugby for Wales too.
Flt Lt Bob Knights
Did two tours of thirty operations each, flew with the Dambusters and then had three goes at the Tirpitz. Quite enough for one war.

Teddy Kollek
Mayor of Jerusalem and, allegedly not a fan of mass murder.

Daniel Koshland
QUOTE
Molecular biologist and heir to the Levi Strauss jeans fortune who edited the magazine Science.
UNQUOTE
The Telegraph does not bother to tell us that he was a Jew with a commitment to Israel. See Haas/Koshland Award enables Stanford biologist
Major-General Rudolf Krzak
Was the last of the men who set up the killing of Rudolf Heydrich. The price was the villages of Lidice and Lezaky, wiped out with every man woman and child. Such was life under Adolf. Try living in Iraq and see whether George is more popular than Saddam.
Errors & omissions, broken links, cock ups, over-emphasis, malice [ real or imaginary ] or whatever; if you find any I am open to comment.



Email me at Mike Emery. All financial contributions are cheerfully accepted. If you want to keep it private, use my PGP Key. Home Page
Updated on Saturday, 25 July 2015 19:55:00